Geneva Motor Show 2016: Really, really fast Jaguar F-Type SVR launched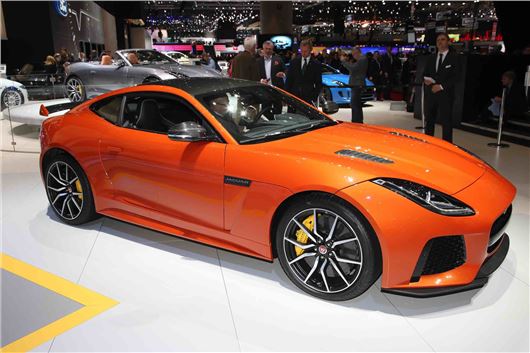 Published 02 March 2016
Sitting just below the Audi R8 and the Honda NSX in the almost-supercar class hierarchy is this, the new Jaguar F-Type SVR. It has 575PS, 700Nm, four-wheel drive, a 200mph top speed and costs £110,000. Or £115,500 if you want the roof chopped off.
Available to order now, that's around £20,000 more expensive than the F-Type R, and with a 0-62mph time of just 3.5 seconds it's considerably faster too.
But this is much more than just a numbers game. The SVR part of the name means this F-Type has been fettled by Jaguar Land Rover's Special Vehicle Operations team, so it gets tuned suspension, lightweight alloys, carbon-ceramic brakes, a carbon spoiler and a titanium exhaust.
It all adds up to a lighter, louder and more dynamically focused F-Type, which should have even Audi R8 buyers distracted momentarily.
The bucket seats are unique to the SVR, while the extended leather interior gets contrasting stitching and aluminium flourishes decorate the cabin. 

Comments
Author

Mark Nichol
Latest