Driving in London During the Olympics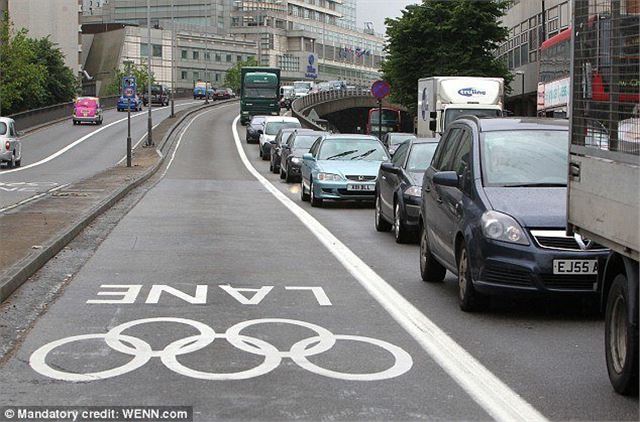 (Photo credit: www.WENN.com)
The best advice is don't drive into London at all. But obviously this is impractical for many people, so how can you cope?
Firstly, enforcement of 'Olympic Lanes' is unlikely to be as draconain as was imagined:
Matthew Beard of The Evening Standard reported on 17th July that "Motorists who mistakenly drive on roads reserved for Olympic vehicles will escape fines under a new amnesty, it was revealed today.
"Drivers will be let off the £130 penalty under guidelines to avoid punishing drivers who are struggling to understand the new rules of the road.
"The lenient treatment will apply across the 30 miles of Olympic-only "Zil" lanes which form part of the wider 106-mile network prioritising Games vehicles. The guidelines have been issued after the lanes caused widespread confusion among motorists in recent days.
"Drivers were taking last-minute evasive action — and causing lengthy tailbacks — as they sought to avoid entering the M4 Heathrow link, the first Olympic lane to come into force. Congestion has built up on other routes such as the A4 and North Circular as drivers avoid the lanes — even though they do not come into effect until July 25.
"A source told the Standard: "We are not going to be issuing tickets if motorists stray temporarily or by accident into the lanes. We are not looking to penalise or fine people — what we want is compliance."
Meanwhile, the Institute of Advanced Motorists head of road safety, Kevin Delaney offers the following advice on using the Games Lanes as part of the Olympic Route Network.
"The Olympic Route Network (ORN) and Paralympic Route Network (PRN) are the networks of roads that link to Games venues. Within these networks, temporary changes such as Games Lanes are in place.
"Games Lanes are marked with the five interlocking Olympic rings and are reserved for the sole use of official Games vehicles and on-call emergency services:
The Lanes will be in use at certain times each day. Most Lanes will be in operation between 6am and midnight, but check sign posts for more information.
Keep an eye on the electronic signs along the routes, which give road users vital information on when and where they may use the Lanes.
Don't drive, ride or park in the Games Lanes. You risk a £130 fine if you use them during operational hours.
You won't be able to cross Games Lanes. Every turn will have a signed diversion route. Only licensed taxis, buses and Games buses have permission to turn right across the Lanes.
"IAM head of road safety Kevin Delaney said: "The problem with the Games Lanes is that London's road network runs at, or very close to, capacity almost all day, almost every day of the year.
"Surrounding routes will be much busier than usual so avoid driving if possible. If leaving the car at home isn't an option, leave plenty of time for your journey, and follow the instructions given on the signs."
"To help drivers stay safe and enjoy their driving this summer, the IAM has a new website, drivingadvice.org.uk, with traffic updates, weather forecasts, and driving tips, including: driving abroad, cycling, coping with Olympic congestion, and loading the car for a long journey."
Sat Nav firm TomTom is extending the functionality of its Map Share service to help drivers in and around London to avoid travel disruptions over the next few weeks.  
TomTom has created a map task force to process map changes related to temporary road closures, changes in traffic flow and additional turn restrictions as they happen across the capital. 
TomTom will make these dynamic map changes available to its customers via Map Share on a daily basis, free of charge.
TomTom map experts predict that July 28th is likely to be the most disrupted travel day, when more than 9,000 road changes in London will be introduced between Westminster and Guildford*. 
The next most congested day is likely to be August 1st when more than 3,000 changes will be made**.
Other severely disrupted days with a large number of road closures will include the 5th and 12th of August.  
TomTom has a team of more than 20 people working on preparing and testing the additional daily map changes.  They will continuously process all road changes in and around London throughout the sporting season.  
After 6pm every single day, sat nav users will be able to download the following day's road changes to their navigation device and reset any changes no longer required from the previous day.
In general, apart from specific road closures on certain days, some restrictions will be in force until mid-August, which will affect routing in London throughout the period.  
Map Share is available free of charge to all 65 million TomTom customers worldwide, including users of their iPhone app.  It allows drivers to personalise the map on their own device, share their changes with the community and receive around 250,000 road changes per month from other users****.  
*  Disruption on 28 July will start/end in the Mall, heading SW through Knightsbridge, Putney, Richmond Park around Kingston Upon Thames/Twickenham. Outside of Central London there will be disruption in Oxshott, Leatherhead, Dorking, Westcott, East Clandon, Ripley, West Byfleet, Weybridge, Walton Upon Thames and other towns.  Alongside the road closures, several side roads and all junctions will be affected. Disruptions are to be expected throughout the day. In the Surrey area the expectations are that the restrictions will go active very early in the morning and be in force throughout the day. It is not yet clear whether there will be a rolling closure in some areas, i.e. junctions may open when there is no activity in the vicinity. 
**  Road closures on 1 August will start around the Hampton Court Palace area heading south over the river and will affect East Molesey, West Molesey, Thames Ditton, Esher, Surbiton, Kingston Upon Thames and Teddington.
*** Special daily map changes during the coming weeks include the more dynamic, frequent changes that drivers are likely to encounter in and around the London Metropolitan Area such as:
Blocked roads

New traffic directions

Altered turn restrictions

New Points of Interest (POIs)
**** Drivers can also report their own changes through Map Share in addition to downloading the daily map changes provided by TomTom.  They can choose to accept changes submitted by some, or many, other Map Share users, or only those verified by TomTom during the coming weeks. 
Comments