Motorway Services Best Avoided Says IAM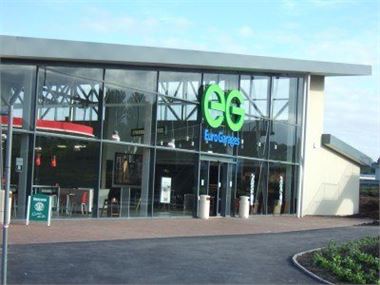 Drivers continue to part with more cash for everyday items at motorway service areas, shelling out up to 40 per cent more for everyday items than they would on the high street.
A large Snickers bar costs 90 pence from a motorway service area compared to 68 pence from a high street branch – 32 per cent more – while a regular coffee costs 16 per cent more on the motorway.  A packet of McCoys crisps was almost 45 per cent more expensive than a shop on the high street, and a packet of Walkers crisps was marked up by 36 per cent.
With petrol prices averaging about ten pence per litre more than at off-motorway forecourts the IAM is calling for a complete review of motorway prices, together with filling stations being forced to advertise their and their competitors' fuel prices, as is the case in France.
IAM chief executive Simon Best said: "We must end this motorway madness. Everything from sweets to petrol have an outrageous mark up.
"Our advice for tired motorists is always to take your rest break and have a coffee to help you freshen up. The danger is that rip-off prices will discourage people from getting the rest they need. Parking fines for drivers who sleep for longer than two hours put people off taking rest breaks."
Research undertaken by IAM using motorway service areas and high street shops.  (Table below).
Product

High street prices

Motorway services

Difference

 
 

Regular cafe Americano

 £1.90

 £2.20

15.79%

 

Regular flat white

 £2.40

 £2.80

 16.67%

 

Regular hot chocolate

 £2.40

 £2.80

 16.67%

 

Snickers duo

 68p

 90p

 32.35%

 

Double Decker

 77p

 80p

 3.90%

 

Walkers cheese and onion

 70p

 95p

 35.71%

 

McCoys cheddar & onion

 66p

 95p

 43.94%

 

Coca Cola 500ml

 £1.67

 £1.72

 2.99%

 
The IAM is the UK's largest independent road safety charity, dedicated to improving standards and safety in driving, motorcycling and cycling. The commercial division of the IAM operates through its occupational driver training company IAM Drive & Survive. The IAM has more than 200 local volunteer groups and over 100,000 members in the UK and Ireland. It is best known for the advanced driving test and the advanced driving, motorcycling and cycling courses. Its policy and research division offers advice and expertise on road safety.
Fantastic website. All you need to know about Motorway Services
Everything IAM
Comments