MoTs for Pre-War Cars May Be Scrapped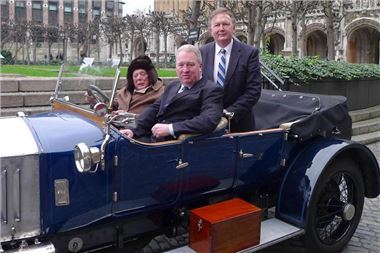 The requirement to have an annual MOT test for pre-war cars may be scrapped following a meeting between Transport Minister Mike Penning and members of the All Party Parliamentary Historic Vehicles Group, of which Lord Montagu of Beaulieu is President.
The meeting took place on 20th January at the Palace of Westminster between Lord Montagu, Conservative MP for East Yorkshire Greg Knight, who is the Parliamentary group chairman and Transport Minister Mike Penning.
After the meeting Lord Montagu added: "This review is well overdue and I welcome it. I believe that any date of exemption should be a rolling one."
Mr Knight added: "Accidents involving historic vehicles are extremely rare and the majority of owners are meticulous in keeping their vehicles in good condition. Having to have an annual MOT test for a vehicle which may only travel 100 miles in a year is an unnecessary bureaucratic hurdle".
Minister Mike Penning said, "The MOT is important in helping to ensure that cars are safe for use on our roads. However, we need to be sure that the regulations we impose are having their intended effect. That is why I am going to look at whether there is a case for exempting older historic and classic vehicles from the MOT test. These vehicles are treasured by their owners who want to ensure they are well maintained, and in most cases they use them irregularly. I have asked my officials to look at the evidence on this issue and we will carry out a full consultation to allow interested groups to submit views".
Mr Knight added, "If these older vehicles are exempted from the MOT test, owners will still be legally required to ensure that their cars are safe, roadworthy and in a proper condition to be on the road. The Minister has made it clear that the exemption will not relate to historic vehicles that are used commercially."
Pictured after the meeting, leaving the Palace of Westminster in Lord Montagu's 1914 Rolls Royce Alpine Eagle from the National Motor Museum collection, are Lord Montagu of Beaulieu (front driving), Minister Mike Penning MP (front passenger), Rt Hon Greg Knight MP (rear).
Comments