October is Tyre Safety Month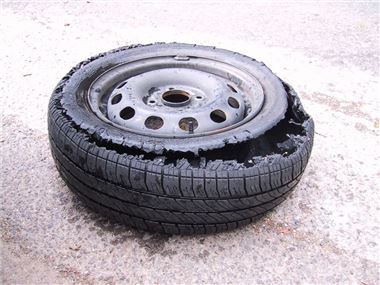 October's tyre safety month is underway and 7 year-old 'mechanics' Kyanne and
Finlay are urging drivers to take the 20p test in order to stay safe and legal.
The pair's appeal can be seen in an online movie (www.tyresafe.org) where they
show drivers just how simple and easy it is to check their tyre tread depth.
Their plea comes just days after the Department for Transport published its
latest road casualty report which reported that more than 200 people were killed
or seriously injured (KSI) in the UK in 2009 as a result of an accident where
illegal, defective or under-inflated tyres were a contributory factor.

"Checking that your car's tyres have adequate tread depth is extremely simple
and easy," explains Stuart Jackson, chairman, TyreSafe. "As our two 'mechanics'
demonstrate in the campaign movie, you don't need any specialist tools or
knowledge. A simple 20p coin and a few minutes is all it takes. With such
potentially devastating and life-changing consequences, drivers should ask
themselves if they can afford not to take the test?"

To take the 20p test drivers need to simply insert a 20p coin into the main
tread grooves of their car's tyres. If the outer rim of the coin is covered by
the tread, this indicates sufficient tread depth to be safe and legal. If the
outer rim of the coin is visible, drivers should have their tyres inspected by a
qualified professional.

Adequate tread depth is critical to road safety, particularly in wet conditions
as the tread grooves help to remove water from the road surface. Without
sufficient tread depth drivers may suffer from a loss of grip or traction
leading to longer stopping distances, reduced handling and an increased
likelihood of aquaplaning.

Current UK law requires car tyres to have a minimum of 1.6mm of tread across the
central three quarters of the tyre, around its entire circumference. Drivers
found to be in breach of these regulations face a fine of up to £2,500 and three
penalty points for each illegal tyre.

Driving on illegal tyres remains a significant problem in the UK. Figures
obtained by TyreSafe through a Freedom of Information request, show that in
2009/10, 2.3 million vehicles failed their annual MOT test where 'tyres' was one
of the reasons for referral. Insufficient tread depth was a significant part of
this, with 1.6 million MOT tests failed because the car's tyres did not meet the
1.6mm requirements. Additionally, the number of drivers successfully prosecuted
by courts in England and Wales during 2008 for driving on defective tyres rose
by 14 percent to more than 4,300 convictions.

"Drivers really should sit up and take note of Kyanne & Finlay's sound tyre
safety advice," continues Jackson. "Every single driver whose car failed its MOT
because of illegal tyres can count themselves fortunate that they did not become
another unnecessary KSI statistic. Taking the 20p test just once a month will
take drivers just a few minutes and will help reduce MOT failure rates, but more
importantly help to keep even more drivers safe and legal on the road."

In addition to the online video, hundreds of garages and tyre retailers across
the country will be offering free tyre safety checks. To find out more about
tyre safety visit www.tyresafe.org.

How to make the 20p test

1. Tyre tread depth should be checked at least once a month at the same time
that you check your tyre pressures.
2. A 20p coin provides a useful alternative to a calibrated tread depth gauge.
3. Insert the 20p coin into the main tyre grooves at several places around the
circumference of the tyre and across its width.
4. If the outer band of the 20p coin is visible whenever you insert it into the
grooves, your tread depth may be illegal and you should have them checked by a
qualified tyre specialist.
5. When checking your tread depth, give the rest of the tyres a visual
inspection for any cuts or bulges and remove any stones or objects embedded in
the tread.
6. If in doubt, visit your local garage or tyre dealer.
 

- TyreSafe is a not-for-profit organisation dedicated to raising awareness of
the importance of the dangers of defective and worn tyres.
- In 2009, TyreSafe was awarded with the Prince Michael International Road
Safety Award in recognition of its achievements in raising awareness about the
dangers associated with driving on defective and worn tyres.
- TyreSafe supports the government's ACT ON CO2 campaign which promotes Smarter
Driving tips to help cut CO2 emissions from driving. 
- TyreSafe is a signatory to the European Road Safety Charter which was launched
in 2004 with the aim of halving the number of deaths on European roads by 2010.

Useful Links
TyreSafe - www.tyresafe.org

Twitter - www.twitter.com/tyresafe 

YouTube - www.youtube.com/user/TyreSafe 

Tyre Safety Month has national backing from Motor Codes and its nationwide network of 6,500 garages.  The SMMT's consumer section is encouraging its service and repair centres to advise customers of key tyre safetyissues and to offer free tyre safety checks.

"Motor Codes offers peace of mind for motorists at reputable service and repair
centres that have committed to the Industry Code of Practice, so highlighting tyre
safety fits perfectly with our key criteria of raising standards for motorists,"
said director, Chris Mason.  "Tyre safety checks, free advice and the reassurance of
government-backing is sure to be popular with motorists and it is perfect timing as
the dangerous, wetter, months begin."

Department for Transport figures show that 2.3 million vehicles failed MOT tests in
2009/10 due to poor tyre condition.  With over 145 million tyres in use on vehicles
across the UK, Motor Codes garages could help motorists to make significant savings,
in addition to enhancing their safety.
 
To keep its customers safe, Motor Codes is promoting these 'top tips for tyres':

Motor Codes top tips for tyres:
         - Check tyre pressure and tread monthly.
         - Remember to check the pressure and condition of the spare tyre.
         - Examine all tyres for uneven wear.
         - Make sure the tyre speed rating is suitable for the vehicle.
         - If in doubt visit a Motor Codes tyre specialist for advice.

To find a reputable garage that will be able to provide advice, guidance and tyre
checks visit www.motorcodes.co.uk.  If you'd like to find a Code-subscribed tyre
fitter, you can use the 'Tyres' tick-box on the Code's online Garage Finder tool.




Comments