Drivers could void insurance and face fines for not securing pets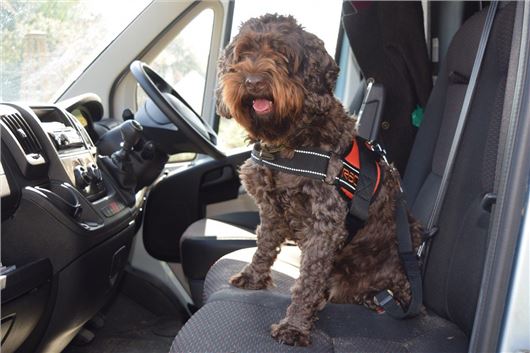 Published 25 July 2019
Millions of motorists are at risk of voiding their car insurance by failing to secure their pets properly while driving, according to new research by MoneySuperMarket.
A survey of 2000 car owners and home owners/renters shows that almost a quarter (24%) of drivers let a pet sit unrestrained in their car – leaving them unprotected in the event of a claim.
Drivers could also receive a £100 on-the-spot fine if they are seen to be distracted. And it could be stepped up to driving without due care and attention, which carries a maximum fine of £2500 and three to nine penalty points.
A further seven per cent allow their pet to travel with them unrestrained, despite knowing it could void their insurance policy.
The Highway Code states that animals need to be 'suitably restrained' to ensure they don't distract the driver and recommends using a seat belt harness, pet carrier, dog cage or dog guard in order to do so.
>> Drivers face penalty points for not wearing a seatbelt
"If you're in a prang with an unrestrained pet in your car, insurers may use it against you – regardless of whether it was as a direct result of the animal itself – so it's worth being on the safe side," says MoneySuperMarket. 
The report from MoneySuperMarket also reveals the most common ways drivers in the UK break the terms of their policy, with number one being changing jobs without notifying their insurer (23%). Surprisingly, the second is having an accident and not informing their insurer (18%), followed by letting others drive their car without the correct insurance (15%).
Further down the list is charging others for lifts (13%). Drivers can face a whopping £2500 fine and may even invalidate their insurance policy if they start turning a profit from lift-sharing. In 2018, Dorset police exposed an illegal lift-sharing service in Bournemouth, which operated via Facebook.
>> How to save money and get cheaper car insurance
While drivers are allowed to receive payment for fuel costs, anyone found to be making a profit, or advertising online, could be charged with illegally operating as a taxi. Police say these illegal taxis are a a risk to the personal safety of passengers and could lead to prosecution.
Drivers deemed to be profiting from lifts face a hefty fine, penalty points on their licence and could even have their vehicle seized. Most insurance providers also won't cover motorists who are illegally making a profit. 
Comments
Author

Georgia Petrie
Latest