Drivers consider potholes a more significant concern than drink driving or texting at the wheel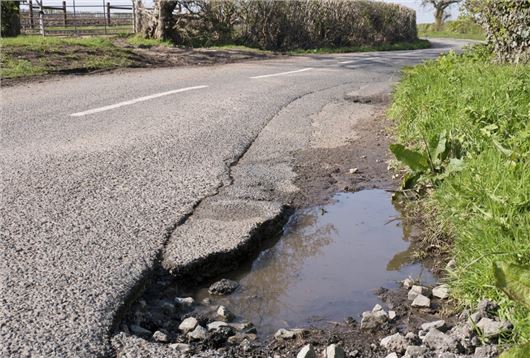 Published 05 February 2021
Potholes are perceived by drivers to be a much more significant concern than they were three years ago, according to the findings of a new report from the UK's largest road safety charity.
IAM RoadSmart's annual Safety Culture Report - which surveys over 2000 motorists - discovered that three in four drivers (75 per cent) now perceive potholes to be a bigger issue than driver distraction (68 per cent) – such as texting or talking on a mobile phone - and traffic congestion (65 per cent).
Regionally, eight in ten (81 per cent) drivers in the South East considered potholes to be a bigger road safety issue than three years ago, compared with around six in ten in London (61 per cent) and the North East (64 per cent).
It is currently estimated that there are some 42,675 miles of UK roads classed as being in poor structural condition, costing an estimated £11.14 billion to bring them up to a level which they could be maintained cost effectively going forward, according to Asphalt Industry Alliance.
Research by MoneySuperMarket in November 2020 showed that Wiltshire spent £68.6 million on repairing potholes over the past three years, meaning it spends the most of any county in the UK.
>>> Click and collect orders soar as new car industry adapts to life under lockdown
However, IAM RoadSmart's research found of those motorists who had experienced a pothole only around one in ten (12 per cent) had enough damage to their car caused by the pothole to require a repair and only around one in six (16 per cent) had reported a pothole to the authorities. Less than one in ten (7 per cent) made a claim for the damage.
The study found that more than half of respondents (54 per cent) have had to steer away or brake hard to avoid impact and damage from a pothole.
Neil Greig, IAM RoadSmart Director of Policy & Research, said: "The pothole situation on UK roads has now become much more than just irritating, it's a significant threat to personal safety. We simply can't have vehicles swerving into oncoming traffic or slamming on their brakes without warning to avoid them. Deteriorating roads also put pedestrians and cyclists at greater risk."
>>> JCB PotholePro can fix a pothole four times quicker than current methods
Comments
Author

Georgia Petrie
Latest