Consultation aims to tighten mobile phone driving laws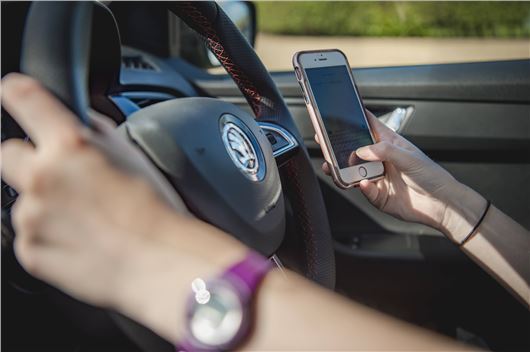 Published 19 October 2020
Communicating on a handheld phone while driving is illegal in the UK currently, however, the Government is looking to strengthen the law to ensure drivers can't escape convictions for taking photos/videos, scrolling through playlists or playing games on phones while driving.
The Government has moved to tighten the law around using handheld mobile phones while driving. The change, due to come into law after a 12-week public consultation, would allow police to take immediate action if they saw a driver holding and using a phone at the wheel.
As it stands, drivers can be given an on-the-spot fine of £200 and six penalty points if they're caught using a handheld phone while driving. However, some drivers have reportedly overturned convictions after lawyers successfully argued that the law only bans the use of mobile phones to speak or communicate while behind the wheel.
>>> Nearly one-in-five young people make video calls while driving
The law - written in 2003 - states that an offence is committed if a driver uses a handheld phone for 'interactive telecommunication' while behind the wheel. As smartphones were not in existence then, the law no longer reflects the reality of mobile phone use while driving.
Drivers may use a phone's function while driving as long as they have 'hands-free access'. This includes a bluetooth headset, voice command and a dashboard or windscreen mount. The device must not block your view of the road and traffic ahead, though.
You can get three penalty points if you don't have a full view of the road and traffic ahead or proper control of the vehicle. You can also be convicted for driving without due care and attention, or dangerous driving, if you're using a phone while driving.
Drivers will still be able to use phones as devices to pay for goods or services at drive-through businesses such as takeaways.
The Government expects the new proposals to be in place by early 2021.
>>> Luxury car brands account for nearly half of keyless thefts
Comments
Author

Georgia Petrie
Latest