Over 40 car incidents at level crossings every week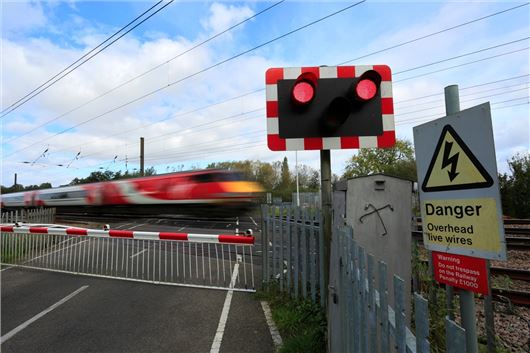 Published 05 October 2018
Network Rail has launched a national campaign as new research reveals about 46 incidents involving vehicles take place at level crossings across the UK every week.
Six people have lost their lives in vehicles at level crossings in Britain in the past five years alone, with many more injured. The campaign aims to change driver's behaviour around level crossing by making them more aware of the danger.
The study, carried out by researcher Populus on behalf of Network Rail, revealed that nearly half of the drivers surveyed (45 per cent) felt their passengers were their biggest distraction while driving. The thought of arriving late to their destination distracted 30 per cent of respondents. 
The research also showed one in nine drivers would go straight over a level crossing if they had checked the train timetable and believed no train was coming. 
Britain has the safest rail network in Europe, but the 3800 public and private road crossings across Network Rail's 20,000 miles of track are among the biggest public safety risks.
"We are investing more than £100 million to improve level crossing safety across Britain as part of the Railway Upgrade Plan, but we also need drivers to obey the law at level crossings," said head of public and passenger safety at Network Rail,  Allan Spence.
The campaign coincides with a recent incident of a driver nipping through a level crossing red warning light during a live ITV News broadcast.
The incident was captured on camera as reporter Tanya Mercer was midway through explaining the dangers of railway crossings.
ITV News Anglia tweeted about the incident, saying, "A word of advice: While our reporter @tanyamercer is doing a live about the dangers of ignoring warning signs at level crossings, it's probably not the best idea to jump a red light live on air."
Superintendent Christopher Horton of the British Transport Police replied to the Tweet asking for footage of the car that jumped the red light, as well as the car before it that went through the amber light.
The crossing in Westerfield, where the live report was broadcast, has recorded the most prosecutions for people skipping red lights, with 49 logged from January to December 2017.
Comments
Author

Georgia Petrie
Latest