Five Grand Friday: Ford Mondeo ST 220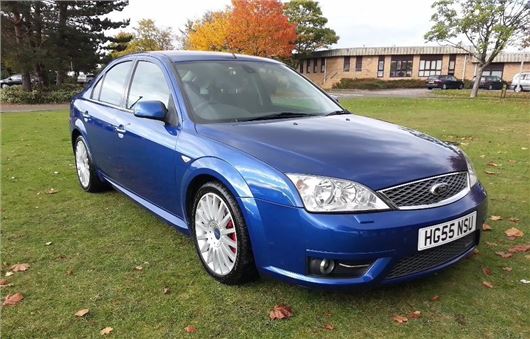 Published 13 November 2015
We have to admit that we do love a quick Ford. And not just because some of us are from Essex. Ford has always made great performance versions of its cars. We often hanker after an Escort Cosworth and the Mk1 Fiesta XR2 can get us distinctly misty-eyed.
So naturally, several Ford models have been suggested for Five Grand Friday. The Focus ST was a very strong contender but after a few days of trawling the classifieds we were drawn more and more towards the Mondeo ST. And the good news is that there's plenty of choice out there.
The majority are the excellent 2.2 TDCi diesel version with 155PS. Which goes to show you how times have changed. A few years ago that was considered a performance diesel and yet the latest Mondeo comes with a 2.0 TDCi with 150PS as standard. The same engine is available with 210PS and that's not even badged as a performance model. In fact sadly, Ford no longer has an ST version of the Mondeo. 
We understand why. Ford wants to move the Mondeo upmarket and is focussing on quality and refinement. An ST version doesn't really fit in with that. It's a shame as despite the sheer size of the latest Mondeo - it's probably bigger than a 1980s Granada - we think it would still look good with an ST bodykit and some big alloys.
Now common sense would say look for a Mondeo ST TDCi. But us being us, we just couldn't get away from the allure of the 3.0 V6 petrol. After all, if you're going to go performance, you may as well go all out. Plus you'll never regret it when you hear that gorgeous exhaust note every time you accelerate...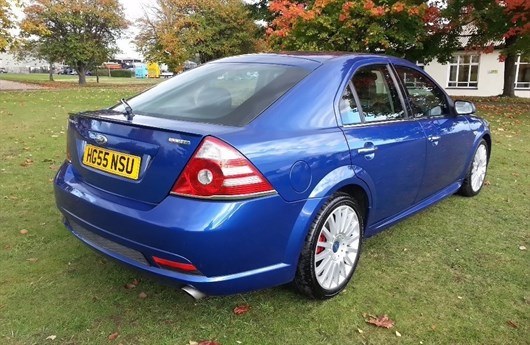 The Jaguar-sourced V6 engine is very much like the 2.5-litre engine that Ford sourced from Volvo for the Focus ST. It has a lovely muscular feel and gives the Mondeo proper legs. This thing just seems to continue to accelerate with great pick-up from low down. It certainly feels like it has more pulling power than the 285Nm of torque would suggest.
Yes the TDCi may be more economical but the ST220 is the one that will always put a smile on your face. Unfortunately it may also put a dent in your wallet. This isn't a particularly cheap car to run. Claimed economy is just 27.2mpg and owners on Real MPG average 25.4mpg. Close to the official figures but far from frugal while annual road tax is be £290. 
>>Find a used Ford Mondeo ST for sale
If you are looking for a Mondeo ST, we'd suggest going to Select Cars in Nottingham, who are one of the best Mondeo ST specialists in the country. They have a great selection of low mileage Mondeo ST models for sale - both estates and hatches. Sadly they didn't have any petrol examples when we looked so the car we found is from the Berkshire Motor Company over in Newbury.
It's a late 2005 Mondeo ST in the classic Racing Blue - always our favourite colour for a sporting Ford - with just 64,000 miles on, below average for a ten year-old car. It does look very well cared for which hopefully means it hasn't been abused. The advantage of choosing a Mondeo ST rather than a Focus is that you're less likely to end up with a battered or modified one. Mondeo ST owners seem to be a more reserved bunch. The interior looks near spotless and the alloys unkerbed.
There are several things to look out for if you're buying an ST and there's a very good forum at STDrivers if you want advice. Some things are simple to check, such as drooping rear bumpers and valence mouldings. If you hear a rumble from the front, it may mean that the bottom crank pulley damper assembly is starting to separate around the rubber insert. It's a few hundred pounds to fix, but if it fails completely then the engine will be written off.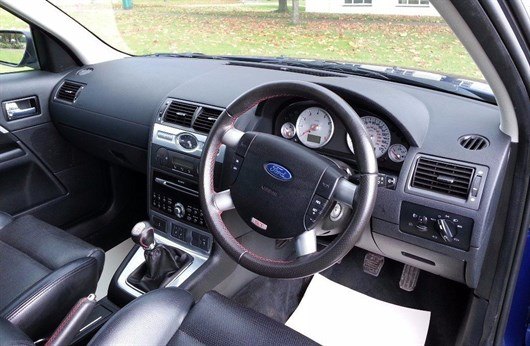 If you want a family hatch with genuine performance credentials then the Mondeo ST is a strong choice. At 10 years old the design still looks sharp today - we know of many people who say this was the pinnacle for the Mondeo both in terms of design and handling. It's another Ford to put on our list of 'cars to own one day'. 
Comments
Author

David Ross
Latest