Lexus LF-A (2010–2012)
Model History
Super expensive supercar offering extreme, race-bred performance.
4,505mm long x 1,895mm wide x 1,220mm high.
Powered by mid-front mounted 4.8-litre V10 engine with 9,000rpm red line. Rear wheel drive through bespoke, rear-mounted six-speed Automated Sequential Gearbox (ASG). Maximum power 552bhp, maximum torque 480Nm. 0-60 in 3.5 seconds, top speed 202mph. Extensive use of advanced materials, including Carbon Fibre Reinforced Plastic (CFRP) construction and Carbon Ceramic Material (CCM) brakes. Production limited to 500 examples. UK launch price 368,000 (approximately £336,000).
Keeping the car's weight to an absolute minimum was one of the defining elements in the development of the LFA and this led to the decision to switch from using aluminium for the car's construction to advanced Carbon Fibre Reinforced Plastic (CFRP) for the chassis and bodywork, built in house. At four times the strength of aluminium, CFRP gives the LFA an exceptionally stiff and strong structure, and also delivers weight advantages, saving around 100kg on an equivalent aluminium body. CFRP accounts for 65 per cent of the body-in-white, with aluminium alloy used for the remaining 35 per cent.
The heart of the LFA is a bespoke, naturally aspirated V10 engine of 4,805cc capacity, developing 560PS and revving to a 9,000rpm red line. A 72-degree angle between the cylinder heads is ideal for achieving balance in the engine for exceptionally smooth running, while providing individual, electronically controlled throttle bodies for each cylinder gives excellent throttle response. Using a dry sump lubrication system allows the block to be positioned deep in the engine bay, lowering the car's centre of gravity and moment of inertia, and enabling the engine to handle sustained, high-speed cornering. The V10 produces 480Nm of torque at 6,800rpm, 90 per cent of which is available from 3,700rpm all the way to the 9,000rpm red line, thanks to Dual VVT-i technology, equal length exhaust manifolds and high-volume, 12-hole fuel injectors. This gives searing in-hear acceleration at all engine speeds and in any gear: 0 to 62mph takes just 3.7 seconds and maximum speed is 202mph.
With a kerb weight of 1,480kg, the LFA has a power to weight ratio of 373bhp per tonne, while specific output of 115bhp per litre is among the highest of any current supercar, aided by a high, 12:1 compression ratio, low friction internals and optimised intake and exhaust flow.
A six-speed Automated Sequential Gearbox (ASG) drives the rear wheels via a limited slip differential. To help achieve the optimum 48:52 front-to-rear weight distribution, it is contained in a transaxle mounted over the rear axle. The ASG is operated by paddle shifts mounted on the steering column and is engineered for exceptionally fast shifts: an upshift can be effected in just 0.2 seconds. Four driving modes: Auto, Sport, Normal and Wet, activated by a selector dial on the dashboard. Each mode has a specific gearshift programme, and engine and brake control logic systems to let the driver tailor the car's performance to suit driving conditions.
The brake discs are made of Carbon Ceramic Material (CCM), which as well as being lighter than steel, gives fade-free performance in all conditions. The front discs are 390mm in diameter and 34mm thick, gripped by six-piston aluminium callipers; the rear discs measure 360mm across, are 28mm thick and are fitted with four-pot callipers. All use high-friction micron pads, manufactured exclusively for use with CCM brakes.
The track-tuned suspension is the result of intensive development work carried out by Lexus at the Nürburgring's Nordschleife circuit to give the best possible balance between control and comfort. The bespoke wishbone front/multilink rear design makes extensive use of aluminium alloy for high strength and low weight, and the aluminium monotube dampers are the same as those Lexus used for its LFA race car in the Nurburgring 24-hour race. The 20-inch forged aluminium BBS wheels are shod with asymmetric Bridgestone tyres: 265/35ZR20 at the front and 305/30ZR20 at the rear.
Extensive wind tunnel testing helped produce a wind-cheating profile with a drag coefficient of 0.31, a remarkable achievement given the degree of downforce the car creates at high speed. Airflow is precisely controlled over, under and around the car. A carbon fibre rear diffuser and flat underbody generate significant downforce, with an active rear wing, complete with a gurney flap on the leading edge, boosting the level further still.
The constant-rate rack and pinion steering uses an innovative column-assist Electric Power Steering System that does not sap engine performance..
The cabin is hand-built, with driver-focused ergonomics. The seats, upholstered in fine leather and Alcantara, provide the high level of back and side support needed in a car capable of 200mph-plus performance. The trim echoes the advanced materials used in the LFA's construction, with exposed areas of both matt and gloss carbon fibre. Trim details are finished in brushed metal and the floor-hinged brake and throttle pedals are made of forged aluminium. As with the exterior finish, owners can choose different interior colours and details to suit personal taste.
The compact, hooded instrument panel combines an LCD display panel with a colour Thin Film Transistor (TFT) and a motor-drive movable ring. It features a single circular dial with a central tachometer with an LCD needle. When engine speed exceeds 9,000rpm, the display area turns red to prime the driver for an up-shift. It can also be programmed to turn yellow or green when the revs reach a user-selected range. The dial also houses a digital speedometer and gear indicator, transmission mode, vehicle control data and trip information displays.
An information selector switch on the left side of the steering wheel lets the driver toggle through a series of functions, including customising the data display, adjusting cabin illumination and operating a track-ready stopwatch system.
When the car is started, an instrument display sequence is triggered, creating a sense of occasion, culminating in the four digital dials showing oil and water temperatures, fuel level and oil pressure radiating out from the centre of the rev counter to take up their positions on either side of the central dial.
Passive and active safety provisions are in line with the LFA's exceptional performance. The central carbon fibre reinforced plastic central structure is extremely strong and provides excellent impact protection. Crash boxes are fitted front and rear that are designed to deform in a controlled fashion in the event of an impact. That at the front is made of CFRP; that at the rear from extruded aluminium. Side impact protection includes strong and rigid carbon fibre side members and door structures comprising an aluminium inner panel and a Glass fibre reinforced Sheet Moulding Compound (G-SMC) outer skin.
The LFA is equipped with Lexus's Vehicle Dynamic Integrated Management (VDIM) system, which co-ordinates the smooth operation of the ABS, vehicle stability and traction control systems as the vehicle approaches its performance limits, based on critical data on brake operation, yaw and roll rates, individual wheel speed and longitudinal, lateral and vertical acceleration
Passive safety features include two-stage adaptive front airbags and seatbelt airbags for driver and passenger and a driver's knee airbag.
The LFA programme was launched in 2000 as a straightforward R&D project. In 2008 and 2009 the LFA was entered in the Nurburgring 24-hour race, the intention being to push the car hard under testing conditions prior to its official launch as a production-ready model at the 2009 Tokyo motor show. The LFA is hand-assembled at the Motomachi plant in Toyota City. Only 500 examples will be built, at a maximum rate of 20 per month to ensure the finest build quality and attention to detail. Each V10 engine will be assembled by a single engineer, and will bear his signature as testament to each LFA's bespoke status.
TECHNICAL SPECIFICATION ENGINE
Engine Type 1LR-GSE
Cylinders/arrangement V10
Valve mechanism 40-valve DOHC
Displacement (cc) 4,805
Bore x Stroke (mm) 88.0 x 79.0
Compression ratio 12.0:1
Fuel Injection Type EFI,
Octane Rating 95 or higher
Max. Power (bhp @ rpm) 552 @ 8,700
Max Torque (Nm/rpm) 480 @ 6,800
Max. engine speed (rpm) 9,000
Exhaust emissions certification Euro 5
PERFORMANCE
0-62mph (sec) 3.7
Max. speed (mph) 202
DIMENSIONS
Overall length (mm) 4,505
Overall width (mm) 1,895
Overall height (mm) 1,220
Wheelbase (mm) 2,605
Track (mm) front 1,580
Track (mm) rear 1,570
Overhang (mm) front 940
Overhang (mm) rear 960
Coefficient of Drag (Cd) 0.31
Fuel tank capacity (litres/gallons) 73/16.1
WEIGHTS (kg)
Kerb weight 1,480 – 1,580
Gross vehicle weight 1,700/1,750
TRANSMISSION
Gearbox type 6-speed Automated Sequential Gearbox
Front counter gear ratio 1.259
Gear ratios
1st 3.231
2nd 2.188
3rd 1.609
4th 1.233
5th 0.970
6th 0.795
Final drive ratio 3.417
Maximum permissible speed (mph)
1st 52
2nd 76
3rd 104
4th 136
5th 172
6th 202
BRAKES
Front – diameter x thickness (mm) Cross-drilled ventilated discs, 390 x 34
Rear – diameter x thickness (mm) Cross-drilled ventilated discs, 360 x 28
SUSPENSION
Front Double wishbone with anti-roll bar
Rear Multilink with anti-roll bar
STEERING
Steering gear type Rack and pinion
Power steering type Electric
Ratio 14.3
Turns lock to lock 2.35
ELECTRICAL SYSTEM
Battery capacity, voltage and Ampère hour 12V-48AH
Alternator output (W) 2,640
Starter output (kW) 1.7
TYRES AND WHEELS
Wheels
Front 20x9.5J BBS alloy
Rear 20x11.5J BBS alloy
Tyres
Front 265/35R20 95Y
Rear 305/30R20 99Y
February 2011
The most exclusive Lexus yet built, the LFA supercar gains an even more track-focused profile with the addition of the bespoke Nürburgring Package, to be shown in public for the first time at the Geneva motor show in March.
Aimed at customers looking for even greater levels of performance from the V10 supercar, the Nürburgring Package is available on a maximum of 50 of the 500 cars that are being built. It provides additional aerodynamic features and technical revisions to improve handling and downforce, increases engine output by 10bhp to 562bhp and speeds up gear shifts in the six-speed sequential transmission.
November 2014
Lexus LFA driving impressions added in the 'One the Road' section.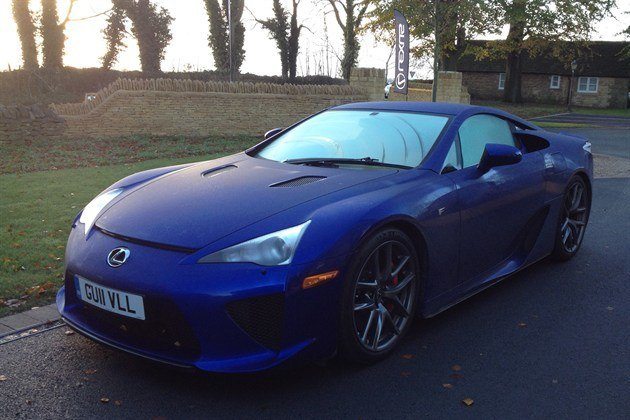 What does a Lexus LF-A (2010 – 2012) cost?