Dacia Sandero (2013 – 2021) Review
Looking for a Dacia Sandero (2013 - 2021)?
Register your interest for later or request to be contacted by a dealer to talk through your options now.
Dacia Sandero (2013 – 2021) At A Glance
Yes, it's flawed in terms of its interior quality, its refinement and its level of luxury and safety equipment, but it's good at plenty of other stuff, and at such incredibly low prices, there can be no complaints. It's bigger and roomier than most rival cars costing many thousands more, it's reasonably comfortable, and it has an honest, no-nonsense charm that makes it incredibly likeable.
Looking for a Dacia Sandero (2013 - 2021)?
Register your interest for later or request to be contacted by a dealer to talk through your options now.
With the seemingly countless amount of makes and models on offer these days, there aren't all that many cars that have a unique selling point.
And even with those that do, what that selling point is usually takes plenty of explaining, and it's usually only a technicality that nobody really cared about in the first place. Examples? Hmm, let us see.
Well, we remember Mercedes boasting that the first A45 AMG had the most powerful four-cylinder engine of all time, and Audi boasting that the latest A8 limousine was the first car capable of Level Three autonomous driving, although currently, that level of autonomy is not actually legal to use anywhere in the world. Seriously, who cares?
The Dacia Sandero, meanwhile, has a true USP, and it's one that even kindergarten kids will find it easy to understand. The Dacia Sandero is the cheapest new car on sale.
And again, we're not talking fine margins. With prices starting at £6995, the Dacia Sandero supermini costs at least £2500 less than any rival, and that includes city cars from the class below that are considerably smaller. And yet, compared with other superminis, most of which cost several thousand more again, the Sandero is also bigger and roomer, with a bigger boot. The sheer value-for-money that this car represents is scarcely believable. 
But how can Dacia - owned by Renault - flog this car for so little and still turn a profit? Well, a number of reasons. The mechanics on which it's based are the same as those from the Renault Clio of several years ago, so they're basic, cheap and very little had to be spent on research and development. There are also some clear signs of cost-cutting all over the car.
The interior is plasticky and unappealingly finished, on-road refinement is pretty poor and the amount of luxury and safety kit you get on most models is very low: entry-level Access models don't even have a radio for heaven's sake.
However, you might well be surprised at the number of things that the Sandero does pretty well. Not only is it cheap and practical, but it's also easy and reasonably comfortable to drive, it's easy to see out of, the engines are (just about) perky enough and do a decent job on economy.
The car also looks the part (provided you avoid the entry-level version, that is). For a car this cheap, that's not a bad list of virtues.
Perhaps even more appealingly, though, the Sandero's unabashed no-frills approach to motoring gives the car an honest, humble, no-nonsense character that certain buyers find incredibly appealing. This is a very likeable, very charming car, and one that just about anyone will be able to afford. How's that for a USP?
What do owners think of the Dacia Sandero (2013 – 2021)? Check out our
Owners' Reviews
from people who live with the car day in, day out.
Reviews for Dacia Sandero (2013 – 2021)'s top 3 rivals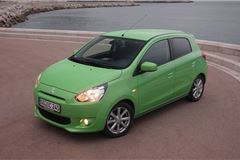 Mitsubishi Mirage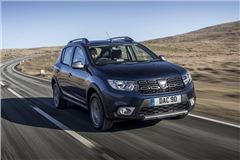 Dacia Sandero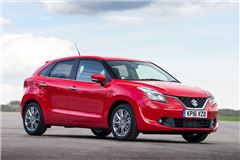 Suzuki Baleno
Ask Honest John
Which cheap cars offer the least amount of tech?
"I don't want and don't want to pay for all the tech in a car. I'm fine with no radio, no electric windows, no air con etc. I know that there are other folk like me, so what cars are there that do not have all this mostly useless rubbish?"
Sounds like you want a basic Dacia Sandero Access. Or maybe a 20-year-old Peugeot 106 (you'll have to remove the radio and sell it on eBay).
Is there a simple car out there with few gadgets?
"I'm looking for a car for my 81 year old mother with the least amount of gadgets. Is there a car out there that has buttons and levers for the radio and heating? She currently drives a Toyota Avensis"
A Dacia might be a good option. They're pretty basic, with rotary controls for the heating and simple buttons for the radio on lower-spec models. Alternatively, look at a low-spec city car like a Kia Picanto.
Which car is the best value for money?
"What's the best value car on the road? "
Probably the Kia Picanto if you don't need much space. It's cheap and cheerful and comes with a seven-year warranty. If you need a bit more practicality, consider a Dacia Sandero.
What affordable small car would you suggest for a young couple with a baby?
"My son and daughter in law will need a car to accommodate their new baby and kit. They are both six feet tall and live in a crowded city street so need a combination of internal room, modest external dimensions, five doors and a petrol engine. They have around £9,000 to spend on a new car or used car. What would you recommend?"
Consider a Dacia Sandero. It's a budget option (and feels it in some ways), but £9000 will get a brand new one in Comfort trim with the TCe 90 petrol engine. It's bigger than many rivals, with a big boot, and access to the rear seats is easy. Also consider a Honda Jazz. It's very versatile and will be reliable. A £9k budget will get you a 2018 model.
What does a Dacia Sandero (2013 – 2021) cost?
See also