BMW 6 Series (2011 – 2018) Review
BMW 6 Series (2011 – 2018) At A Glance
Introduced in 2011, and sold until 2018, the BMW 6 Series Coupe is an indulgent and luxurious long-range cruiser. This is a car that can cover huge distances with ease, with those onboard relaxing in leather-lined comfort. The powerful 650i petrol and 640d diesel engines add to the feeling of effortless performance, although the 640i petrol falls a little short. Although described as a four-seater, the 6 Series is best left to just two people. Make use of the back seats for extra storage instead. An impressive level of standard equipment adds to the overall feeling of quality.
The idea of a grand touring car like the BMW 6 Series Coupe is rather a romantic one. Being able to cover hundreds of miles in a single serving, leaving driver and passenger refreshed on arrival, is a big ask. It requires a range of special skills, but the 6 Series manages to deliver them.
One of the criteria for being a true GT is handsome looks, which is something the BMW certainly achieves. Compared to the previous-generation model, the styling of the 6 Series has perfect proportions. A long nose and short tail fit the 'GT' brief – it's arguably one of the most attractive modern BMWs.
One of the most important things to remember about the 6 Series Coupe is not consider it a hardcore sports car.
It may have the looks and the horsepower, but this is not a car for attacking the nearest race track. This BMW is a big vehicle, after all, and it weighs close to two tonnes. Attempting to make it handle twisty turns with zeal would mean challenging the laws of physics. 
It means that the 6 Series Coupe is not on the same page as true sports cars like the Porsche 911. Yet the big BMW will be even more effective as a long-distance machine, racking up the miles with effortless ease. Comparisons with the Maserati Gran Turismo or Jaguar XK are more accurate, although those two models feel even older than the BMW. 
Challenging the suitability of the 6 Series as the perfect grand tourer is the ride quality. M Sport cars may have proved most popular with buyers, but they use a stiffer suspension set-up. Combined with 19-inch alloy wheels and low profile tyres, it results in a taut ride that can become uncomfortable on rough tarmac. Cars with the optional adaptive suspension feel more resolved. 
The choice of engines for the 6 Series Coupe leaves little room for complaint, with a simple choice of two petrols or one diesel. Many buyers have been drawn to the diesel 640d, which offers the muscle to move this large coupe with gusto, but still delivers respectable fuel economy. It will certainly go further on one tank of fuel than the petrol 640i or 650i.
More time on the road means spending longer in the 6 Series Coupe's cabin. With quality materials and lots of technology, it explains why BMW felt comfortable with the high list prices when this car was new.
Only limited space in the rear seats spoils the party, with room only for small kids in child seats. At least boot capacity is generous for a two-door coupe. 
Even if just simply for commuting to work, the 6 Series has just enough charm and ability to make every journey feel special. Knowing that it can also tackle a long-distance holiday just adds to the appeal.
What do owners think of the BMW 6 Series (2011 – 2018)? Check out our
Owners' Reviews
from people who live with the car day in, day out.
Reviews for BMW 6 Series (2011 – 2018)'s top 3 rivals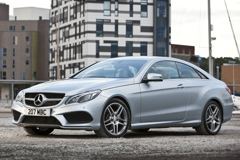 Mercedes-Benz E-Class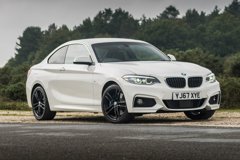 BMW 2 Series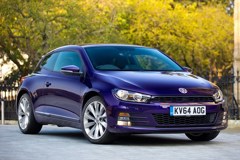 Volkswagen Scirocco
Ask Honest John
Can you suggest a ULEZ-friendly coupe for under £35,000?
"I live in London and the impending ULEZ extension forces a reluctant sale of my much loved Euro5 BMW 640d. Everything about this car has been superb for the past five years but now is the time to move on. Requirements for a similarly comfortable, fast and entertaining premium car (ideally a coupe) that can accommodate four people is a must. I do only 4000 miles per year with infrequent long-distance driving. My max budget is £35,000. I'm considering an M4 (2019 Competition spec) but I'm concerned that future environmental taxes will price me off the road within a few years. I don't like Teslas and whilst the Honda E appeals, it's no good for long drives and is a long way off the BMW's 6 Series for luxury. Are there any interesting alternatives I should consider?"
Can you charge a car at home? If so, have you considered a BMW 330e plug-in hybrid? It's not as outlandish as the M4 (nor is it a coupe...) but it is a relatively quick, comfortable and economical car that shouldn't feel too much of a downgrade after your 6 Series. Your budget will get you a 2019 saloon model in desirable M Sport trim. Alternatively, consider a self-charging Lexus RC Coupe. It's not a particularly practical choice but it's very comfortable, a bit left-field and ULEZ-friendly.
Should I buy a BMW 640d with 100k on the clock?
"I have recently seen a 2012 plate BMW 640d for sale with 100,000 miles on the clock.The car has a full service history, but I am a little worried about the high mileage. Should I buy or avoid? "
High but healthy mileage representing 25k a year. All depends on its service record. If it's been serviced every 25k miles, no. If it's been serviced at 8k-15k intervals it should be okay.
Bought a car with dangerous tyres - Can I sue?
"I bought a two year old BMW 640d Gran Coupe from a main dealer four weeks ago. During a routine inspection at another BMW dealership today it was pointed out that the front tyres were badly worn, one of which had a dangerous tear on the inner part of the tyre wall, not visible from the exterior, when the car is on the road. Am I able to claim the cost of one or both tyres from the dealer where I bought the car originally, as clearly they would have known of the issue prior to sale and sold me a dangerous car."
I think so, although they could claim that you damaged the tyre on a speed cushion (which is the most likely way it was damaged), but the fact that both tyres were badly worn anyway lands it in their court.
Porsche 911 or BMW 6 Series?
"I have been offered a four year old Porsche Carrera Cabriolet with only 7000 miles, excellent condition, but £52k original cost with extras £90k. Is a BMW 6 Series Convertible a better buy for day to day use?"
Presumably this will be a 997, not the current 991? Even so, it is much more fun to drive than a 6 Series. So depends what you want it for. If you want it for performance driving, get the Porsche, even though with the top cut off it is not as sharp as a coupe. If you want a top-down cruiser for the summer that's also relatively civilised on the motorway, get the BMW. I think the BMW will depreciate more heavily.
More Questions
What does a BMW 6 Series (2011 – 2018) cost?