Toyota Prius Plug-In (2017 on)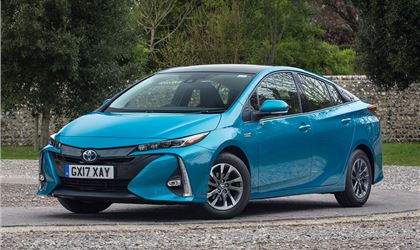 Excel
reviewed by HectorG on 26 April 2020
5
Tax/Insurance/Warranty costs
5
Cost of maintenance and repairs
5
Experience at the dealership
5
How you rate the manufacturer
The car for the moment
Like a huge numbers of motorists over the last 10 to 15 years, I succumbed to the appeal of the SUV with its elevated driving position, more or less go anywhere credentials (when 4x4 is specified), general comfort and space. I've owned an X-Trail, 2 Foresters, a CRV, a Freelander and a RAV4. What do they all have in common? Poor mpg and dubious handling.

About a year ago when having my 2016 RAV4 Hybrid serviced at my main dealer, I came across a Prius and Prius PHV in the showroom. I was particularly struck by the 'space age' looks of the PHV (far preferable to the frumpy standard Prius) although acknowledging that some find them hideous, including many of my friends

Subsequently, I went on the lookout for demonstrator nearby to see what they're like to drive, expecting to be massively underwhelmed. After a half hour test drive I was shocked how impressed I was. The overriding impression was of calm. Many owners of the PHV report that, despite having owned performance cars - myself included- when they're behind the wheel they become positively 'zen-like' as a result of the soothing and relaxing drive which definitely makes journeys, particularly in towns, stress free. You just have to ignore the BMW drivers up your backside as you religiously stick to the speed limit. Apart from road noise - not uncommon in cars today because of the UK's shocking road surfaces - it was whisper quiet. You can hardly tell when the ICE cuts in, the transition between EV and ICE is seamless. The ride and handling on the new TNGA platform and 15" wheels is excellent and the car is generally very comfortable and spacious. Needless to say, I was won over despite the relatively lowly driving position which I hardly notice now.

After much research I concluded that you could find a PHV demo car for the same price as a standard Prius, despite the £6,000 difference in MRSP, probably largely due to the lack of a 5th seat (Uber drivers cannot use 4 seaters) and smaller boot due to the larger battery pack. Initially the latter two 'issues' put me off, but after several weeks I found a really nice low mileage example for an excellent price and the seats and boot space have so far not been an issue.

Overall, it's the perfect car for me. Most journeys are completed entirely on EV which gives me an overall mpg to date of 181.5 (213.9 over the last 3 months). On longer journeys of 300 miles or more when plug-in is not available I generally achieve in excess of 80 mpg! The 43l tank lasts months. The servicing is cheap and the battery pack is guaranteed for 15 years as long as Toyota service the car (the battery health check is free in that case).

The Excel model has all the safety features as standard that German manufactures charge many thousands extra for: head up display (shows speed and range and Eco accelerator guidance bar), lane departure warning with steering control, pre-collision system with pedestrian detection, front and rear parking sensors, reversing camera, road sign assist, brilliant automatic high beam LED headlights, adaptive cruise control, intelligent parking assist, blind spot monitor, vehicle stability control, hill start assist, rear cross traffic alert, etc. Other innovations include the use of a gas injection heat pump for heating the interior without requiring the engine to power up at temperatures down to -10°C, and a battery warming system that operates at down to -20°C to ensure maximum efficiency even in very cold weather. You can even turn on the heating remotely on cold mornings with the key fob to pre-heat the car before setting off.

Disappointing features are the infotainment system (except for the excellent JBL audio) which is typical Toyota, and the road noise, apparently largely due to a deliberate decision to limit heavy sound deadening materials to save weight in Toyota's drive to maximise the efficiency of the Prius.

In conclusion it's worth mentioning the approach Toyota take in their implementation of the plug-in hybrid concept compared to other manufacturers. The Mitsubishi Outlander PHEV, a very popular car amongst reps because of the low BIK (most business users don't bother plug-in them in - they generally don't pay for the fuel), fails for me on a number of levels. It's very heavy (almost half a tonne heavier than the Prius), not particularly aerodynamic, not very user-friendly (it has 5or 6 regenerative modes which are operated by steering wheel paddle shifters, whereas the Prius has the 'B' mode on the stubby gearshift which engages regenerative braking when going down steep hills) and from what I'm told, doesn't achieve much more than the mid '30's/low '40's mpg in the real world when operating in hybrid mode (i.e. when not plugged in). The cabin is very dated and poorly laid out, the suspension crashes over potholes, the range on EV can drop surprisingly after relatively few miles have been accumulated, their reliability record is patchy and most models are over £40,000, so far from cheap.
Essentially, Toyota engineers decided early on to adopt a 'keep it simple' approach whereby many of the decisions regarding EV/ICE split (when to automatically power up the engine - e.g when traveling up a steep hill from cold), regeneration, etc would be implemented by the power control unit. It's been reported that 200 software engineers were involved in programming the PCU. I know several PHV owners who have tried to improve on the mpg figures obtained by selecting different driving modes (EV, HV, EV City and Battery Charge Mode) manually and switching between them, rather than allowing the car's software to calculate the optimum settings in any given scenario, and all have failed. Clearly, the raison d'être of the Prius is calm and no-fuss efficiency and it succeeds in this regard in spades.
Write your review
About this car
Just reviewed...