Toyota Corolla Touring Sports (2019 on)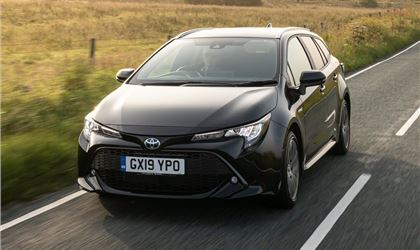 2ltr hybrid Exel
reviewed by Anonymous on 31 July 2019
3
Tax/Insurance/Warranty costs
5
Cost of maintenance and repairs
5
Experience at the dealership
5
How you rate the manufacturer
Smooth, quiet, comfortable and economical.
The car is very smooth, quiet, comfortable and economical. I don't seem to need to put it in sport mode or use the paddle shifts. It doesn't hit the red line as you touch the throttle which is what I have experienced in the past. In fact the CVT gearbox drives just like a conventional automatic. It does seem to encourage you to drive economical but you can drive it with a heavy right foot if you wish, and in my opinion it handles well. As far as MPG goes late 50's too early 60's is quiet easily obtainable. As long as you are light with your right foot.

The engine is very quiet and you can't tell if it's running or not unless you floor the throttle. It works seamless between engine power and battery power. I have now done 2800 miles since I bought it new and the engine has not used any oil and it's still clean. Also I've found the engine to warm up very quickly.

Toyota claim the engine will cut out at speeds up to 70mph. In the real world around the 60-65 mark is more realistic. Keeping it around that does reward you with economy around the early 60's. Which I'm quiet happy with.

As for issues there has been none. Annoying things are the sat nav seems to revert to true north in stead of the direction of travel so you have to alter it back. The parking sensors are quit with no adjustment and do not shut down the radio when pick up an obstruction. The boot doesn't have an electric tail gate and there is no blind spot monitor system.in my opinion All these things should be available on the top spec model.
reviewed by Anonymous on 16 July 2019
reviewed by Anonymous on 6 April 2019
Write your review
About this car
| | |
| --- | --- |
| Price | - |
| Road Tax | A–E |
| MPG | 44.1–62.8 mpg |
| Real MPG | 98.6% |
Just reviewed...