Kia Sorento (2003 - 2009)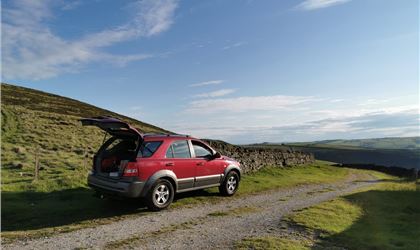 2.5 CRDi XE Auto
reviewed by Sam Fairclough on 6 June 2020
5
Tax/Insurance/Warranty costs
5
Cost of maintenance and repairs
5
Experience at the dealership
5
How you rate the manufacturer
The best of its era, a real bargain if you do your homework.
I have had mine since summer 2017 and as a 27 year old it was not the obvious choice. But I needed something big to carry a large dog, and 4x4 to deal with Peak District winters. The styling still looks fresh today among all the crossovers and monocoque softies. If you could have only one vehicle to do a variety of jobs then this would be it.

In town its easy to drive with light steering, good mirrors, excellent Aisin torque converter four speed auto box. Its a motorway mile muncher with enough poke to overtake, good levels of comfort, cup holders, rear hatch glass that opens, electric windows all round, 5x12v sockets, good A/C and decent standard audio speakers.

In poor terrain and weather conditions the Borg Warner selectable 4x4 system and live rear axle will take car of most obstacles. It will tow large amounts, sit 5 adults in comfort with luggage, ferry cargo for house moves and even offers a fairly sporty drive on country roads. Only down sides are the ride quality from the Sachs made Porsche developed rear coil suspension is harsh over speed humps and ruts. Good strong disc brakes all round, good on tyre wear for such a big vehicle, expect 18-20mpg in town and 28mpg on a long motorway run.

Like many cars, there are several faults to watch out for and model specifications to avoid.
XE are basic but have the most robust hardware, the XS and XT with the TOD AWD system can have problems if not thoroughly maintained. Aisin 4 speed auto is strongest, Jatco 5 speed box more modern, manuals have dreaded dual mass fly wheel like most post 2000 cars.

Things that go wrong: Rear axle brackets corrode and can write the car off unless you can source another axle. Fuel tank delamination, coolant header tank leakage, general corrosion underneath and inside rear door arches, thermostat housing can crack and need welding, coolant hoses can fray and leak, water ingress into cabin if drainage channels blocked, heater blower can get stuck on single mode, rear wiper can develop mind of its own, fuel injectors/seals can leak causing "blow by", oil pump pickup mesh screen in sump can get blocked and cause low oil pressure.
reviewed by Anonymous on 1 November 2018
reviewed by herbywan on 8 November 2013
Write your review
About this car
| | |
| --- | --- |
| Price | £19,995–£27,495 |
| Road Tax | K–L |
| MPG | 25.4–35.8 mpg |
| Real MPG | 83.1% |
Just reviewed...