Welsh Hydrogen Cell Car to Star at London Motor Show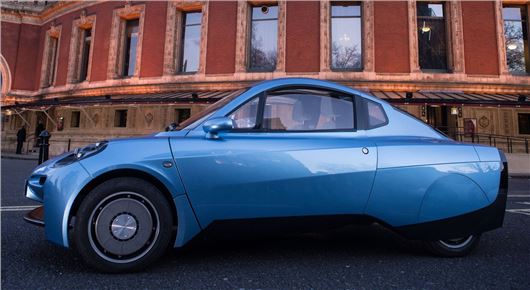 Published 26 April 2016
One of the stars of the London Motor Show at Battersea Evolution from 5th to 8th May will be the hydrogen cell powered Riversimple RASA, developed and built in Wales.
The road legal Riversimple RASA prototype is a lightweight and highly efficient, "network" electric car powered by innovative hydrogen fuel cell technology. This car reflects the objectives of this year's London Motor Show, which is to showcase not just a wide range of exciting new cars currently available to the public, but also to provide the opportunity of promoting significant developments in automotive technology and innovation initiated here in the UK. 
Following its unveiling at the 2016 Geneva Motor Show, the new McLaren 570GT will be making its UK debut at The London Motor Show. Besides its front load compartment, the GT features a side-opening rear glass hatch offering additional 220 litres of storage for longh distance 'Grand Touring'. Engine is the 3.8 litre twin turbo M838TE giving 570PS and 600Nm torque. Prices start at £154,000.
The MG GS SUV will be on display for the very first time at The London Motor Show, marking the brand's first departure in its long history to this type of vehicle.
Mitsuoka displays its limited edition "Brooklands" Roadster at The London Motor Show. Based on the Mazda MX-5 and featuring a British look the Brooklands Roadster combines retro lines with advanced levels of modern technology and a retractable hard top. Mitsuoko Roadster review here.
The Mexican designed and produced VUHL 05 is a lightweight supercar powered by Ford's turbocharged 2 litre EcoBoost engine that gives it a power-to-weight ratio of 410bhp/ton. It's currently for sale at a price of £59,995 from specialist dealer, Bespoke Performance. 
The Bentley Bentayga, Ferrari 488 Spider, Rolls-Royce Dawn and Lamborghini Huracán Spyder will be on display courtesy of HR Owen.
Other dealerships will represent Volvo, Vauxhall, Lamborghini, Aston Martin and MINI. Speakers will include  Sir Stirling Moss, Tiff Needell, Ben Collins, Nigel Mansell and Afzal Kahn.
And for the family there's something for everyone to enjoy including the TOP GEAR simulator, delicious dining options and a chance to play the Project CARS racing gameusing a VR (Virtual Reality) headset.
The general early bird admission ticket is £15 from 6th-8th May and children under 10 go free. On the door ticket price is £20. For more information visit www.thelondonmotorshow.co.uk/
Opening times: Friday 6th May: 10.00am – 6.00pm, Saturday 7th May: 10.00am – 6.00pm, Sunday 8th May: 10.00am-5.00pm. 
Comments
Author

Honest John
Latest