Audi A3 Sportback (2013 - 2020)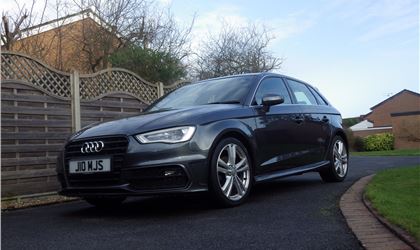 1.4 TFSI S line 125 S tronic Auto 5dr
reviewed by Anonymous on 8 May 2021
4
Tax/Insurance/Warranty costs
4
Cost of maintenance and repairs
4
Experience at the dealership
5
How you rate the manufacturer
As Good as Expected
After 7 months ownership and only about 2000 miles of mostly urban driving we are very satisfied with overall quality, performance and comfort. The criteria for changing from an older A3 was petrol, automatic, metallic grey preferably and 'S' line with the flat bottom steering wheel and this fitted the bill. Our previous A3 was a also automatic and 2.0L and I was hesitant about whether the performance would be suitable with the smaller engine. On all fronts this car is vastly superior to the old one even the comfort with S line 18" wheels and lowered suspension is fine.
The only critcism we have is the brakes are extremely sensitive and the slightest heavy footedness causes all occupants discomfort. It has been looked at and declared to be 'perfect' for a modern car and something we need to get used to.
Our previous cars have been mostly BMW, series 1 and Z3, Z4 and the Audi may just edge on BMW for quality and refinement.
Using the old adage of 'would you buy another one? the answer is yes we would.
reviewed by Anonymous on 14 February 2019
reviewed by IanProc on 21 November 2018
reviewed by Stephen Bartlett on 29 September 2018
reviewed by Brian Johns on 2 May 2018
reviewed by Trevor Bean on 31 July 2017
reviewed by Comical Engineer on 25 March 2017
reviewed by birdywordy on 31 July 2016
reviewed by thegreatvaliantman on 29 January 2016
reviewed by BassmanasH on 6 June 2015
reviewed by PJT578 on 5 June 2015
reviewed by Neil Bucks on 19 December 2014
reviewed by IanProc on 17 May 2014
reviewed by gjpgjp on 5 May 2014
reviewed by chiefie on 23 September 2013
Write your review
About this car
| | |
| --- | --- |
| Price | £19,235–£34,375 |
| Road Tax | A–G |
| MPG | 42.8–83.1 mpg |
| Real MPG | 78.1% |
Just reviewed...