Toyota Auris Touring Sports (2013 - 2019)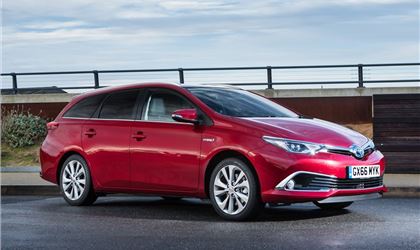 Sport 1.8 Hybrid Icon Tech TSS CVT 5dr
reviewed by Anonymous on 3 June 2020
5
Tax/Insurance/Warranty costs
4
Cost of maintenance and repairs
3
Experience at the dealership
5
How you rate the manufacturer
Reliable Toyota motoring,
Exchanged a V W Golf Estate Blue Motion Auto, for the Auris. Would have preferred a Prius, but expensive for basically the same experience, but a bit higher to get in an out of than the Auris. Car had done 21,000 miles, but had had 2 previous owners. Mileage is 36,000 now.One had had a dog that had not done the interior a lot of good, plus the smell took me ages to get rid of,. even a so called valet, by the dealer, had failed to eliminate it. Also I have no idea as to what, they used to clean the boot lining, but black kept coming off on my hands. Cleaned it myself as the dealer did not really want to know.
Had the first yearly service in 2018 done by them, but they managed to corrupt the sat nav whilst upgrading it. Toyota were brilliant and sent another one down as a replacement, overnight.
I do not drive a lot of miles now, what I do are mainly local to middling journeys. I buy estates for my hobby is flying large model airplanes and need the length for the wings to fit in. The wheel arches at the back restrict the width, compared to the Golf. Also storage in the front drivers area is not as good as the Golf. Performance I feel is not as lively as the Golf and fuel consumption are similar. As most test drivers say, in the POWER MODE, it is very noisy. Had to replace the tires within the first year. Both back ones due to puncture repairs leaking, then the front 2 due to pot hole damage to one!!!
Had to replace the 12 V battery, in March this year, when the battery was flat. RAC came out, checked the battery after getting it started, but pronounced 1 cell was down, so bought a knew battery.
With the spate of Cat thefts, decided to have a Cat Loc fitted, as an insurance. Feel Toyota should fit these as standard on ALL Hybrid cars that seem to be the main target for these type of thefts.
It is a strange car, as when I am driving it I like it a lot, but when not think of changing it. Mainly for a higher car for ease of access as I get older. It is important when leaving the car, to put it in Park and not rely on the handbrake to hold it.( Found this strange after standard type auto box)
Lots of extras for the money, no car tax (pre 2017) insurance reasonable, lot of car for the money.
One last plea to Toyota, please supply a spare tyre of some kind. If your tyre has split or damage wall, a can of sealant is useless.
reviewed by Chris Lynch on 18 November 2019
reviewed by Anonymous on 17 October 2019
reviewed by Anonymous on 10 September 2018
reviewed by Anonymous on 19 June 2018
reviewed by Anonymous on 26 January 2018
reviewed by Arthur255 on 18 September 2017
reviewed by JE on 6 February 2017
reviewed by BobbyPosh on 1 February 2017
reviewed by Pigpuf on 13 November 2016
reviewed by mrratcatcher on 11 December 2015
reviewed by smitham on 11 December 2015
reviewed by geoff41 on 7 December 2015
Write your review
About this car
| | |
| --- | --- |
| Price | £16,045–£27,270 |
| Road Tax | A–F |
| MPG | 45.6–78.5 mpg |
| Real MPG | 73.4% |
Just reviewed...