Porsche 718 Cayman (2016 on)
reviewed by OGA on 16 June 2019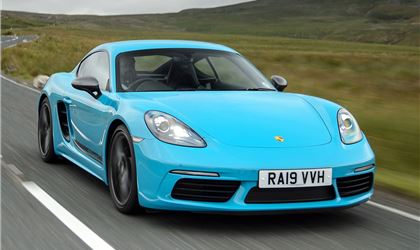 Coupe 2.0 300ps Pdk 2dr Coupe
reviewed by James176 on 26 November 2017
5
Tax/Insurance/Warranty costs
4
Cost of maintenance and repairs
5
Experience at the dealership
5
How you rate the manufacturer
Seriously quick, great handling car for the money
Power, speed and great handling.

Negatives, not that many. Having come from a long line of pindrop quiet, but dull execs the road noise from the extra wide Pirellis took a bit of getting used to. Driving through Europe is less of a problem as the roads are much smoother and quieter.

Ride quality on 18"s without PASM is sporty to say the least, again this took a bit of getting used to, but the excellent handling more than compensates. On smooth European roads no issue, on potholed UK roads can make very long journeys a little wearing.

Luggage space is more than ample, can fit golf clubs, bag, trolley and shoes in no problem, and for short holidays, is perfectly sufficient, just don't buy a suite of garden furniture from B&Q and expect to fit it in.

Power and torque via the turbo is outstanding, I do wish the car came with Michelins rather than Pirellis as can get slidey in the wet. Coming from Audis I do find more people let you out of junctions (much to my surprise) but you do get the odd chav driven golf R wanting to race. Out of interest the 718 is lighter and quicker than a dull hatch, but you really can't get into that on public roads !

This car will put a smile on your face, I did love the NA 6, but that flat four is seriously quick under turbo and really does pull away from 99% of other traffic with ease. Noise is awesome having driven both the flat four is just different (with two less cylinders to go wrong! :)

You don't need to go overboard on the options either most of the basics are covered - but I would recommend the light design package, smokers pack, parking sensors, "trim strips in high gloss finish", and rear wiper. Otherwise all in all a bargain for 0-60 in 4.7 for less than 45k.

As for the PDK, it is without a doubt the best auto I've ever driven and for today's roads an essential option. For ideal conditions and no traffic I would take a manual every time though.

Turbo probably not that much more efficient, however road tax pre April 1 '17 @ £185 per year and 30-40 mpg depending on roads/traffic.
Write your review
About this car
| | |
| --- | --- |
| Price | £40,233–£61,852 |
| Road Tax | G–L |
| MPG | 31.4–40.9 mpg |
| Real MPG | 89.1% |
Just reviewed...