Porsche 911 (996) (1997 - 2004)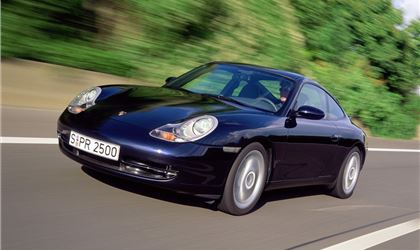 C2
reviewed by modena on 25 March 2021
4
Tax/Insurance/Warranty costs
4
Cost of maintenance and repairs
4
Experience at the dealership
4
How you rate the manufacturer
Nice weekend car
Always wanted a 911 since I was about 12. Bought one in my 40s. Had this one 13 years now, still feels as special t drive as when I bought it. Compared to say a Merc, its noisy , teeth rattling on poor roads, twitchy handling especially the front end, brakes are not great due to light front in greasy conditions. Its not super fast, below 4k slower than a diesel, above 4k howls and surges forward in an exciting way, but not stupidly fast. Its a fun occasional car and I have no plans to change it, I drove a new one which was much better, but not quite as raw, so I was not sad to get back into my old car. I just really love it, feels like an old friend, never let me down and had some great cross country drives in it. Only do about 2k miles per year in and know it inside out as I maintain it. Parts are not bad, radiator 80 pounds etc, although there are three!
reviewed by Anthony Soprano on 17 August 2020
reviewed by mikeluke on 28 August 2014
reviewed by Peter996 on 27 February 2014
reviewed by Aerostar on 18 March 2013
reviewed by jdogturbo on 17 April 2012
reviewed by the1beard on 20 November 2010
Write your review
About this car
Just reviewed...