Nissan X-Trail (2007 - 2014)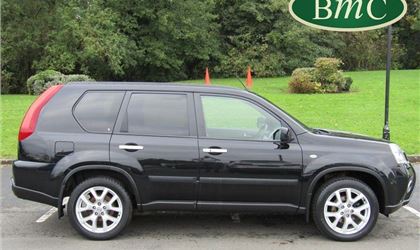 2.0 dCi 173 Tekna 5dr SUV
reviewed by Anonymous on 9 July 2019
3
Tax/Insurance/Warranty costs
4
Cost of maintenance and repairs
5
Experience at the dealership
4
How you rate the manufacturer
All round workhorse
Bought this car to replace the previous model T30 2.2 DCI, which I was sad to see go. I have covered 14,000 miles of mainly highway motoring and with the exception of a EGR cooling tube vacuujm flap rattle have been delighted with it. The flap was replaced at my local garage and no further issues. The new model is vastly more refined with a quieter 2.0 litre Renault engine and high spec Bose entertainment system with built in hard drive, full electric pack and leather upholstery. The rather strange center binnacle has been replaced on the T31 with a traditional setup behind the steering wheel, which for me is a plus, and all the controls are rugged and easily accessed. Cabin noise is reduced, when compared to the prvious model, but road noise from the boot is still quite notable. The boot space however, is huge and all wipe clean surfaces. With the boot furniture removed there is ample roof height for my large dog cage. This is a massive improvement on the old model, which wouldn't accomodate the cage without droppping the rear seats. I tow a swift caravan 1100KG with ease and never feel pushed around by the van. The punchy 173bhp engine pulls well, but needs plenty of throttle to kick in the power. MPG with the van is around 30 and solo I average 51-53MPG admittedly rarely exceeding 60-65 MPH on motorway and duel carriageways. I can't comment on off road use, as have yet to tow through a muddy camp site or farm lane, equally I have not used the car in snow, but I am confident it will perform as well as it's predecessor which was excellent.
Can't fault the car so far, it is what it is, a workhorse with a pretty decent level of refinement for your money.
reviewed by Anonymous on 21 February 2018
reviewed by DeanRoots on 23 April 2016
reviewed by pat88 on 6 June 2014
reviewed by HOJ on 22 February 2014
reviewed by xtrailman on 28 May 2013
reviewed by stebe on 20 May 2013
reviewed by cragrat on 6 December 2012
reviewed by stebe on 25 October 2011
reviewed by philthunder on 15 February 2011
reviewed by Varadaraj on 28 November 2010
reviewed by alan74 on 15 August 2010
reviewed by olly knight on 10 May 2010
Write your review
About this car
| | |
| --- | --- |
| Price | £19,245–£31,700 |
| Road Tax | H–L |
| MPG | 29.4–44.1 mpg |
| Real MPG | 95.3% |
Just reviewed...