Mazda MX-5 RF (2017 on)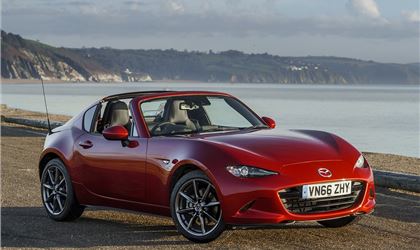 MX-5 RF GT-S 2L
reviewed by CanAmSteve on 17 July 2021
5
Tax/Insurance/Warranty costs
5
Cost of maintenance and repairs
4
Experience at the dealership
5
How you rate the manufacturer
Fun!
We decided to sell some older cars we had in the family and get something more fun, and this little Mazda ticks all the boxes. It is my first "sporty" car in years and reminds me of the MG Midget I had in my youth. Not brutally fast, but light and nimble and a blast to drive on a winding road.

This is the folding hardtop RF model, which I specifically wanted, since soft tops just seem to be moss factories in our climate. I am just over 6'2" and fit fine, but be aware there's not much room for those of a wider physique. The 2019 has the telescopic steering column, which is appreciated.

The manual gearbox is a joy to use, with short throws and positive gates - none of that stirring-with-a-paddle feel many FWD cars offer. The boot is surprisingly adequate and the lack of a spare tyre is becoming the norm even in larger cars. I have added a better air compressor that clips to the car battery and also a tyre plug kit for emergency use.

My wife drives a CX-5, so the controls are familiar as is the dealer for service. The OEM tyres were a bit worn so have been replaced with a less-performance oriented all-weather tyre so the seasonal use can be pushed a bit. We expect to store it over the deepest part of winter, but time will tell.

There are no real downsides to this car beyond the obvious. It is tiny and you may not fit. It is low and may be difficult to enter or get up out of. It is dwarfed by HGVs and even delivery vans, so motorway use can be intimidating and dilute the fun factor - take the B roads
reviewed by CanAmSteve on 17 July 2021
reviewed by Bruce Bello on 4 May 2020
reviewed by stuart mckenzie on 24 April 2019
Write your review
About this car
Just reviewed...