Kia Sportage (2005 - 2010)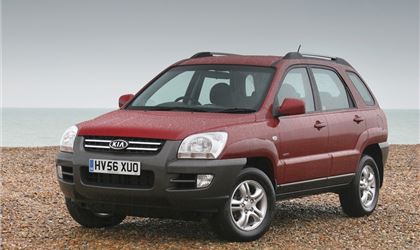 2.0 CRDi XS 5dr auto 4x4
reviewed by Anonymous on 4 July 2020
3
Tax/Insurance/Warranty costs
4
Cost of maintenance and repairs
4
How you rate the manufacturer
Comfortable but probably better with manual gearbox, auto ratios not suited to this engine in my opinion but like it nevertheless
Bought this car following left leg surgery because I need an autobox if am going to drive any distance . Overall reasonably satisfied and we both find it comfortable which is important as of advanced years. We like the elevated driving position.Could do with sidesteps to help my wife get in and out and might yet have some fitted.
Somewhat disappointed with performance but I thought this model had 139 BHP not 111 so should have done my homework better as dont think engine/ auto gearbox characteristics well matched, car changes down at slightest incline even when not towing but nevertheless quite stable with medium size caravan attached and I try to modify my driving technique to minimise above issue. Was not a lot of money and for the time being am sticking with it as the Auto 4 x 4 combination is what I need and quite rare with this period of Sportage. Good load space with rear seats down and we think a nice looking car.
With my budget the devil you know etc. counts for a lot. Only major expense in two years is new A/C compressor.
reviewed by Jonathan Pickard on 30 May 2018
reviewed by Charles Moore on 1 November 2017
reviewed by Robin O'Connor on 10 November 2016
reviewed by Cor Bear on 11 April 2016
reviewed by enthusiast on 23 September 2012
reviewed by KarenE on 19 April 2012
Write your review
About this car
| | |
| --- | --- |
| Price | £15,350–£21,045 |
| Road Tax | I–K |
| MPG | 27.7–39.8 mpg |
| Real MPG | 83.7% |
Just reviewed...