'Cheaper petrol and diesel' petition within touching distance of 100,000 signatures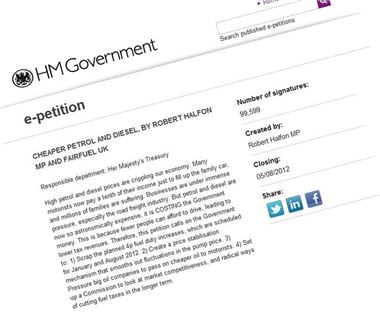 A petition on the Downing Street website demanding lower petrol and diesel prices is within touching distance of 100,000 signatures - the figure that triggers a debate in Parliament.
The petition, submitted by Robert Halfon MP and Fairfuel UK, has been running for almost two months.
It states "High petrol and diesel prices are crippling our economy. Many motorists now pay a tenth of their income just to fill up the family car, and millions of families are suffering. Businesses are under immense pressure, especially the road freight industry. But petrol and diesel are now so astronomically expensive, it is COSTING the Government money. This is because fewer people can afford to drive, leading to lower tax revenues. Therefore, this petition calls on the Government to: 1) Scrap the planned 4p fuel duty increases, which are scheduled for January and August 2012. 2) Create a price stabilisation mechanism that smooths out fluctuations in the pump price. 3) Pressure big oil companies to pass on cheaper oil to motorists. 4) Set up a Commission to look at market competitiveness, and radical ways of cutting fuel taxes in the longer term."
At 16.10 it needed just 380 signatures to hit its target. It will become the third petition that qualifies for a debate, following "Convicted London rioters should loose all benefits" (247,101 signatures) and "Full disclosure of all government documents relating to 1989 Hillsborough disaster" (139,243 signatures).
 To sign the low petrol and diesel prices petition, click here.
Comments