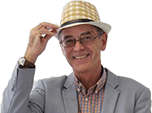 Lewis Hamilton Launches RoadSense at Mercedes Benz World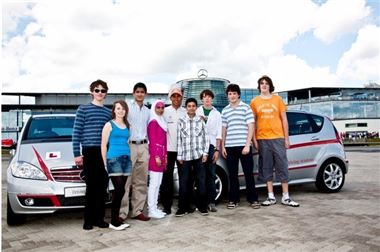 Today, Lewis Hamilton Launched RoadSense, an initiative to teach driving safety to children at their most impressionable age.
RoadSense is a brand new educational initiative that will be the first of its kind to offer school children from as young as 14 the chance to learn about road safety from the drivers', passengers' and pedestrians' perspectives. The initiative has been developed in direct response to the Department For Transport's target to reduce the total number of road deaths and injuries amongst children and young people by at least 50% by 2020[1]. The scheme, piloted in Surrey, will initially be offered to 5,000 local pupils (aged between 14-18 years), with the aim of rolling it out nationwide from 2010.

Introducing a unique approach to teaching road safety, RoadSense has been developed by the Mercedes-Benz Driving Academy and is supported by Surrey County Council, Surrey Fire and Rescue Service and Surrey Police. The pilot aims to reduce the number of casualties on Surrey Roads[2] and will also help to address anti-social driving behaviour in the area, which was identified as local residents' greatest concern[3] by Surrey County Council and Surrey Police.

Offered to schools as an add-on to their existing curriculum, RoadSense will provide students with a half-day interactive experience at Mercedes-Benz World, where they will learn about the importance of road safety through a hands-on driving experience, on-track practical training and peer group discussions. Pupils will be introduced to the world of road safety through a three stage structured course:

1. Introduction to RoadSense - 60 minutes. Pupils will be introduced to the RoadSense initiative which is modelled on the holistic approach of the Mercedes-Benz Driving Academy and its philosophy of learning for life. The students will be briefed on the half-day course and the RoadSense learning concept of considering road safety responsibilities from a driver, passenger and pedestrian point of view. This will help them to form new coping strategies to deal with peer pressure and distractions that they may come up against whilst out on the road.

2. Practical session behind the wheel - 90 minutes. Students are put in groups of three and allocated 30 minutes driving time each using the handling circuit facilities at Mercedes-Benz World. The lesson will be conducted under the careful guidance of a qualified Driving Academy Coach with the aim to helping pupils recognise the implications of distractions and speed on safety out on the road. The session will involve 'real life' risks and situations including passenger and music distractions as well as the impact of pedestrian behaviour which will ultimately help demonstrate the difficulties of recovering from risky situations out on the road. This session aims to educate pupils on how to act as passengers, pedestrians and future drivers.

3. Discussion Group - 60 minutes. Self assessment and risk avoidance are addressed through group discussions covering a broad range of topics including passenger and peer pressure, speed, sensation seeking and in-car distractions, such as mobile phones and music. Students will reflect on real life experiences from driver, passenger and pedestrians' points of view and discuss how to prepare themselves for situations that may be faced whilst out on the road. The groups are led by a professional moderator and assisted by colleagues from Surrey Fire and Rescue Service or Surrey Police.

Launching initially in Surrey, the RoadSense pilot complements the successful local campaigns of Drive SMART and Safe Drive Stay Alive by actively educating younger children about the importance of road safety, something the other schemes don't directly address. Dr Andrew Povey, Leader of Surrey County Council commented, "The introduction of RoadSense to Surrey's school children is great news for the county. It fits in perfectly with Drive SMART, an initiative we launched earlier this year with Surrey Police. Drive SMART aims to tackle anti-social driving, which is regularly identified as a key concern by our residents. School children are the drivers of the future so it is vital we educate them now about the importance of responsible driving."

Ian Dyson, Assistant Chief Constable said, "We are delighted to support the launch of the RoadSense initiative and the Mercedes-Benz Driving Academy. Both complement Surrey Police and Surrey County Council's Drive SMART campaign which works to improve driving practices and challenges anti-social driving. With support of schemes such as RoadSense the public and private sectors are working together to tackle the issues that matter most to people in Surrey."

Wilfried Steffen, President and CEO of Mercedes-Benz UK added, "RoadSense is a great initiative to teach the basics of road safety to teenagers. It highlights the responsibility that even non-drivers have to make the roads a safer place. We know from our experience with the Mercedes-Benz Driving Academy, that younger teenagers are more receptive to learning and if we can teach them about road safety early on, there is more chance that these skills will be put into practice at a later stage out on the public roads. Working with schools to offer this as an add-on to the school curriculum will mean that when pupils start to drive or be driven by their friends they have developed a responsible attitude towards driving and are aware of the wider risks involved."
HJ was at the launch today and interviewed Alexander Hobbach, Daimler AG Senior Manager in charge of the project thoughout Europe.
He sees the main purpose of RoadSense to embed the right sort of thinking into your people's minds when they are at an impressionable age before they actually start driving, long before undesirable peer pressures. As an example, once they have learned the fundamentals, youngsters under instruction are asked to try texting a message while they are driving and are then asked to comment on how it affected their control of the car. Similarly, they can be under instruction in a car with four others talking loudly and find out how that affects their driving. So, long before they start driving on public roads, they are fully aware of the effects of distractions.
HJ then got into an A Class automatic with an instructor and a young boy just ten years old who had only ever previously driven a go-kart. The boy was taken through pre-checks, mirror adjustment, familiarity with controls before setting off, slighly jerkily at first. But, very soon indeed, after more one-to-one instruction, and some very sensible questions from the young lad, he was driving and even reversing more smoothly and safely than could normally be expected of anyone after just 20 minutes driving.
And that's the value of RoadSense. Getting the message of how to drive safely embedded deep into young people's minds long before they face the pressures of passing a test.
After that, of course The Mercedes Benz Driving Academy teaches its own advanced form of 'Pass Plus', which has already found favour with insurers like Aviva, prepared to reduce premiums for young drrivers who represent less of a risk.
Additional Mercedes-Benz Driving Academy & RoadSense information can be found at :

The Mercedes-Benz Driving Academy Website - www.mbdrivingacademy.com

Twitter - www.twitter.com/drivingacademy

A half-day RoadSense course is priced at a subsidised price of £25 per pupil.

More information on Drive SMART and Safe Drive Stay Alive can be found here :

Drive SMART - www.surrey.police.uk and www.surreycc.gov.uk

Safe Drive Stay Alive - www.safedrivesurrey.org

The Road Safety Strategy Post 2010 is available to download here: www.dft.gov.uk/roadsafetyconsultation
Comments