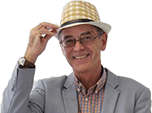 Which Kia is best?
Would greatly value your opinion choosing between a new Kia Optima, a new Sportage and a new Cee;d with the emphasis on comfort. All around £22,000.
Asked on by Barney1812

Answered by
Honest John
Similar questions

I have bought a new Kia Sportage with a Spec 4 to obtain the sunroof and parking sensors all round. This spec only comes with 19-inch alloy wheels. As a result, the tyre profile is low, the ride over speed...

What petrol car do you suggest for easy OAP access and a comfortable ride?

I'm 69 with arthritis and sensitivity to vibration. I need a very comfortable ride/seat with a high seating position. My comfort standard is a Citroen XM. Is there anything at all that comes close?
Related models

Comes with Kia's seven-year warranty as standard. Rides and handles very well on standard Hankook Kinergy Eco tyres.

Well-equipped as standard. Spacious cabin. Low emissions. Excellent motorway cruiser. PHEV from September 2016. New 1.6 CRDi and 1.6 T GDI from 2018.

One of the best crossovers on the market. Very refined and relaxed at motorway speeds. Handles well. Five star Euro NCAP rating.