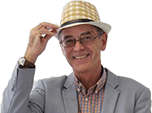 What's a good car to replace my Vauxhall Meriva?
I am looking to change my car. I need an economical low emissions engine with some room as I go fishing and camping. At the moment I have a Meriva which has been a fairly good car but now 10 years old. Any suggestions would be appreciated.
Asked on by Brian

Answered by
Andrew Brady
A Honda Jazz sounds like the ideal choice. It's extremely versatile, reliable and cheap to run. You could also consider a Skoda Fabia estate.
Similar questions

I am looking for small family car but lots seem to have a steep boot lip, which is tricky with a dog jumping in and out. Are there any small cars with false floors/no lip?

I'd like to replace my Skoda Roomster with something old dog-friendly. My two border collies are getting old and need something with a low sill height to make getting in and out easier. We tend to do mainly...

I've got back problems and need a car seat that doesn't tilt backwards, needs to be automatic and have cruise control with a budget of up to £7k. Big ask for that price but any suggestions? What about...
Related models

Unrivalled practicality and versatility. Plenty of room for four adults to travel in comfort. Surprisingly fun to drive, especially 1.5iVTEC Sport model.

Solid build quality. Impressive interior space. Good range of small and frugal engines. Composed ride and handling.