SEAT Tarraco (2019 on)
reviewed by Anonymous on 8 April 2021
reviewed by Anonymous on 15 November 2020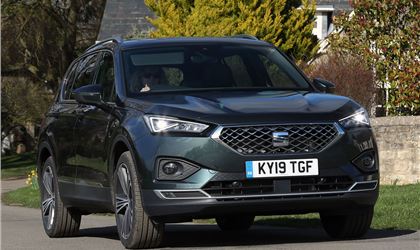 1.5TSi
reviewed by Anonymous on 14 November 2020
1
Experience at the dealership
1
How you rate the manufacturer
To many 'characteristics'
Car bought as a pre registered vehicle, first time we used the sat navigation it lost the plot, started to give directions late and eventually lost the location and had us driving over fields. Three attempts at a fix failed to solve the problem. The map randomly appeared in the multi media screen and dash. Map froze with arrow running off screen. Would not accept destination, had to use phone, but having left map on their was a flag at the destination.
Brake assist applied randomly, once when I was already breaking. Brake assist randomly turned off according to warning.
Lane assist awful , warning of taking over steering when I was changing lanes.
Fuel gauge stuck at full for over 60 miles on motorway ,four up with luggage before the miles to empty went up. By the time we reached destination miles left as expected.
Terrible kangarooing and after update revs visibly paused on restarting at roundabouts etc, reflecting the hesitation.
Write your review
About this car
| | |
| --- | --- |
| Price | £28,550–£40,395 |
| Road Tax | D–K |
| MPG | - |
| Real MPG | - |
Just reviewed...