Saab 9-5 (1997 - 2009)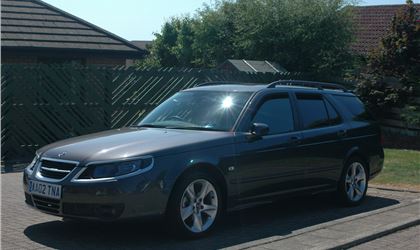 9-5 estate 1.9TiD Edition
reviewed by Anonymous on 6 September 2018
4
Tax/Insurance/Warranty costs
4
Cost of maintenance and repairs
5
Experience at the dealership
5
How you rate the manufacturer
Excellent driver, superb comfort, great mpg 56mpg on a run.
Had Saabs in the past 900 etc. and got this '09 plate Saab 9-5 estate almosr 3 years ago for my wife and haven't been dissapointed. Comfort is excellent with full leather, heated seats, sunroof, rev sensors, folding mirrors, list is endless. Spares so far have not been an issue and "Orio" can supply most parts and of course breakers have jumped on the band wagon. Performance is excellent getting 56mpg on a 70 mile run. Prices I would say are very low for such luxury as most people are put off by it no longer in production. Plenty of owners sites where you can get good advice on any issues. Pocket rocket in disguise - luv it, dru
reviewed by Des Boksan-Cullen on 9 May 2018
reviewed by PRS264 on 9 October 2017
reviewed by Cris Scott on 4 February 2017
reviewed by Marcus M on 2 February 2013
reviewed by Boo2 on 11 September 2011
reviewed by AE100 on 12 December 2010
reviewed by macscrooge on 9 August 2010
Write your review
About this car
| | |
| --- | --- |
| Price | £19,580–£32,085 |
| Road Tax | H–K |
| MPG | 31.0–44.1 mpg |
| Real MPG | 94.0% |
Just reviewed...