Jaguar E-Pace (2018 on)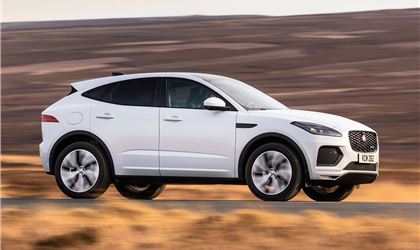 P250 SE
reviewed by Anonymous on 30 March 2021
4
Tax/Insurance/Warranty costs
4
Cost of maintenance and repairs
5
Experience at the dealership
5
How you rate the manufacturer
Three Year Old ePace Review
in 2018 I bought as 'dealer demonstrator' with 4000 miles, due to the pandemic it's just up to10,000 miles now and I can report that in the two years I have owned this car it has only been to the dealers (other than for routine servicing) once to get Apple play added which was free upgrade. The engine is bedded in nicely and now seems particularly smooth and quiet, the main noise is from the stock tyres and a some wind noise around the mirrors. I have a feeling the auto gearbox has learned my driving style and never hesitates or seems confused with its ratio changes. I generally drive in 'Comfort' mode with the gearbox in 'Sport' and am averaging about 30mpg locally and 40mpg on longer trips using that configuration. (The economy setting didn't seem to improve things significantly and was rather sluggish to drive). I have never felt that my ePace p250 was in any way underpowered, just the opposite in fact with 0-60 in less than seven seconds. Coming from a Freelander 2 the interior was a nice step up but it isn't as luxurious as my friend's newer Evoke. My only criticisms are the reflections on the sat-nav screen in the sun, it really could use a shield, my stop-start seldom works but that may be a battery issue as the car has had little use recently, and the hatch is heavy and the exterior release button tricky to locate easily.
reviewed by Anonymous on 24 November 2020
reviewed by Anonymous on 6 September 2020
reviewed by Anonymous on 6 September 2020
Write your review
About this car
| | |
| --- | --- |
| Price | £34,290–£50,190 |
| Road Tax | D–J |
| MPG | 32.8–53.3 mpg |
| Real MPG | 80.6% |
Just reviewed...