Audi A3 Cabriolet (2008 - 2013)
reviewed by Anonymous on 18 December 2017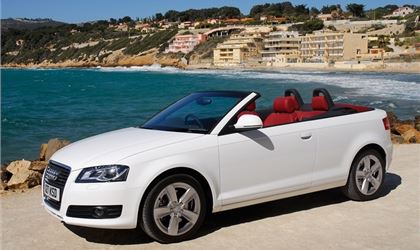 Sport TDI 1.6
reviewed by Buster Cambelt on 8 July 2012
3
Tax/Insurance/Warranty costs
3
Cost of maintenance and repairs
1
Experience at the dealership
2
How you rate the manufacturer
Nice car, but who on earth thought this engine was a good idea?
I have this car on loan for a short while.

Good bits, really looks nice and (in the main) well screwed together. Excellent front seats. Decent sized boot even if you do have to post your luggage. Awful rear view so ensure the car has parking sensors.

Small diesel engine a terrible idea in a cabriolet. Much too noisy and unrefined, makes the entire car shake and causes dash rattle. Lacks any real power or flexibility so you are endlessly changing gear. doesn't even have the merit of being particularly economical.

Downside - the roof leaks badly, hardly what you want in a demo car.

A really nice car with a small petrol engine I think.
reviewed by brettmick on 4 March 2011
Write your review
About this car
| | |
| --- | --- |
| Price | £20,540–£32,105 |
| Road Tax | C–H |
| MPG | 38.2–65.7 mpg |
| Real MPG | 80.8% |
Just reviewed...