Volkswagen reveals new Golf Cabriolet

23 Feb 2011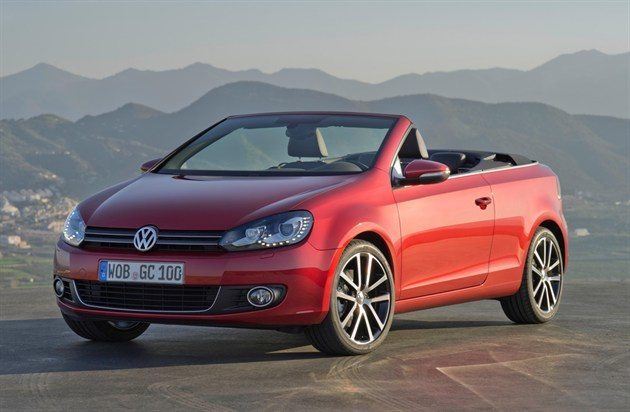 Volkswagen has revealed the first images of its new Golf Cabriolet which will be officialy unveiled at the Geneva Motor Show next week. The two-door, four-seater will be the first drop-top Golf since the Mk IV and features an electrically-operated soft top which lowers in 9.5 seconds. Usefully, the top can also be operated on the move, at speeds up to around 18mph
The Golf Cabriolet is smaller than the Eos (which has a metal folding roof) by around 20cm but the two models share the same wheelbase, resulting in plenty interior space for all four passengers. The newcomer has the now familiar Volkswagen family 'face' while the raked windscreen gives it a sportier appearance than the hatchback model.
At the back rear there are new LED lights and a deep crease in the bootlid to help it stand out from the standard Golf. Inside it's similar to the hatchback with the same design and layout. In the UK, the new Golf Cabriolet will be available in three trim levels - S, SE and GT - with all getting a good level of standard specification which is likely to include 16-inch alloy wheels, a fully automatic electro-hydraulically operated soft top, DAB radio and Bluetooth.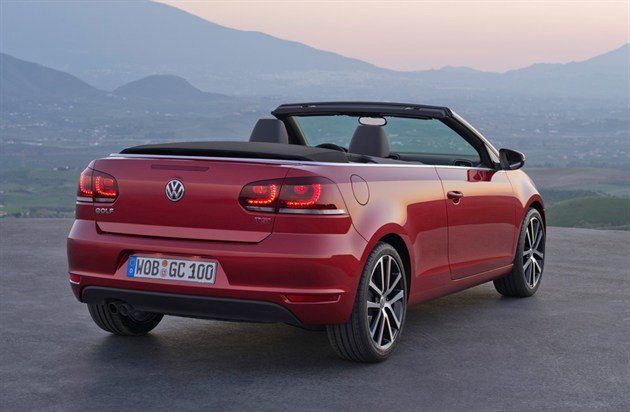 Safety equipment is impressive too and includes an active roll-over protection system, ABS, ESP, airbags all round and a driver's knee airbag. In addition to the active safety equipment, protection is built into the Golf Cabriolet's design. A reinforced window frame and structural modifications to the underbody, side panels, cross-members and doors give it an extremely high level of torsional rigidity which benefits safety, comfort and refinement.
Also having a positive impact on noise reduction and refinement is the advanced design of the Golf Cabriolet's fabric roof which has an additional exterior skin, as well as new window and door seals. When the top is down, the upper side of the leading edge (the bit that directly connects to the windscreen frame) covers the entire top surface of the roof storage box, eliminating the need for a separate cover. This contributes to the very rapid opening time, and means it does not need to descend as deep into the bootspace. Even with the roof down, there is 250 litres of available space.
A choice of six engines will be available with three from launch (a 1.2-litre TSI 105bhp, 1.4-litre TSI 160bhp and a 1.6-litre 105bhp TDI) and a further three later in the year (a 1.4-litre TSI 122bhp, 2.0-litre TSI 210bhp and a 2.0-litre TDI with 140bhp). BlueMotion Technology modifications will be applied to the diesel engines to ensure high efficiency and low emissions.
Volkswagen UK plans to begin taking orders for the new Golf Cabriolet in July, with the first customer orders arriving in September. More details and pricing information will be available closer to launch.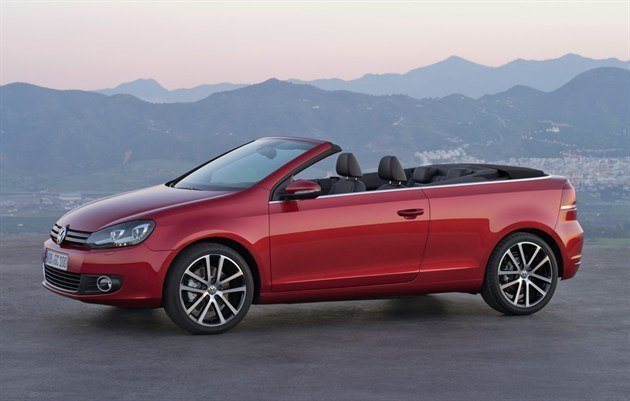 Full coverage of the Geneva Motor Show 2011