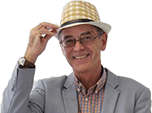 Best wheel/tyre combination for Golf Estate?
What is the best wheel/tyre combination for the new Volkswagen Golf Estate (regardless of model)?
Asked on by John5987

Answered by
Honest John
I'd recommend 16-inch with 205/55 R16 tyres.
Similar questions

My 10 year old Peugeot 307 SW, which I have enjoyed, needs replacing. Both the new SEAT Ateca 1.4 petrol DSG (18-inch wheels) and the new Volkswagen Golf Estate 1.5 petrol DSG (16-inch wheels) suit my...

I need a small, easy to drive car for my parents. They have severe back problems and need soft suspension and, ideally, wide opening doors. If it was economical that would be better - but comfort is more...

I would like to buy a Mercedes-Benz AMG estate, 2014 onwards. Which model would you recommend in petrol?
Related models

Good looking and well thought out design. Probably the best compact estate car available. Volkswagen quality interior. Refined at speed.