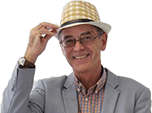 What small car is suitable for my ageing back?
I need to replace my Ford Fusion to help my ageing back. I am 6ft2 and have a long back. My budget may stretch to £5k, but like all pensioners, I want something that will be economical on fuel and road tax even though it has to be automatic to match my wife's requirement.
Asked on by missionary

Answered by
Andrew Brady
A Honda Jazz. It's got a good driving position, is easy to get in and out of and will be very reliable and economical to run. I'd recommend one with the CVT automatic gearbox rather than the clumsy i-Shift automated manual. Also look at the Kia Venga.
Related models

Spacious back seats and wide-opening doors. Easy to drive and park. Good visibility. Decent boot capacity.

Unrivalled practicality and versatility. Plenty of room for four adults to travel in comfort. Surprisingly fun to drive, especially 1.5iVTEC Sport model.