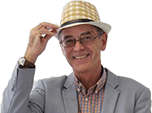 I'm after a small but interesting car - what do you suggest?
After years of having to drive the family workhorse, I can at last by a smaller car. I would like something reasonably practical but above all interesting. It doesn't have to be fast and I don't mind very second hand. I have a budget of £10,000.
Asked on by Gerry Drummond

Answered by
Andrew Brady
A Nissan Cube is very interesting, covers all your requirements and is well under budget. Alternatively, how about a Suzuki Swift Sport? They're great to drive, fairly rare and you'll get a late example of the last-generation model with your budget.
Similar questions

My daughter is expecting a second baby and needs a used automatic with plenty of space for her commute to school. Her average mileage is 8000 and a petrol engine would be preferable. What do you recommend?...

What's the coolest mini MPV for a new mother, in your opinion?

We have an ageing Yaris Verso with a side hinged rear door and a Cee'd SW which we keep catching the hatch on our low roofed garage. We think another side hinger could be the answer but can only think...
Related models

Decent to drive with quiet yet torquey 1.6 chain cam engine, sensible gearing, light controls and excellent ride quality.