Vauxhall Signum (2003 - 2008)
reviewed by CHD on 26 January 2020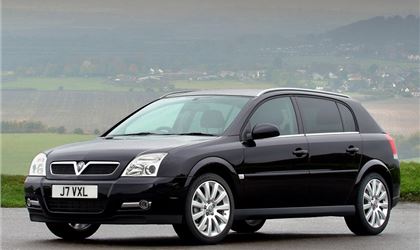 Elegance 1.9 CDTi (120ps) 5dr Hatchback
reviewed by smoz on 10 January 2013
5
Tax/Insurance/Warranty costs
3
Cost of maintenance and repairs
4
Experience at the dealership
3
How you rate the manufacturer
A great big cheap car
I am kind of embarrassed but I'll confess - I love my Signum; and if it broke I'd just go out and buy another. Amongst car cogniscenti it's a joke - a vectra with a big bum. But amongst those who don't follow executive car fashion it's a star. Hardly anyone knows what it is. A friend for a couple of years told everyone that I drove an Audi!
The seats front and rear are the best of any vehicle I've tried. It's smooth and long-legged and economical with that sixth gear. Great sound system, masses of room in the back and a truly huge flat space in the boot with the seats down.
On the down side - a broken alternator was an expensive fix and while the ginormous alloys look great, the tyres aren't cheap.
A sportscar it is not, but after I come out of work I settle into the comfy seats, head out onto the M2 and engage cruise control I can just chill and relax.
reviewed by RotaryBri on 3 June 2011
Write your review
About this car
| | |
| --- | --- |
| Price | £18,425–£27,450 |
| Road Tax | G–L |
| MPG | 26.6–47.9 mpg |
| Real MPG | 93.4% |
Just reviewed...