Vauxhall Corsa-e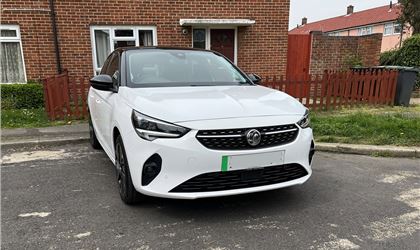 Elite Nav Premium (11kw Charger) 136 Auto 50kWh 5dr
reviewed by Ciaran Wateridge on 5 May 2022
5
Tax/Insurance/Warranty costs
5
Cost of maintenance and repairs
5
Experience at the dealership
5
How you rate the manufacturer
Fantastiy entry into electric market
Bought as I contacted dealer on a whim about trading in my old car, a C3 Automatic petrol and was offered an incredible price. Circumstances are such that I can charge at home or at work, the latter for free. Dealer was also offering extremely good discounts. Did mean a wait of 4 months for factory order but acceptable given the current situation.

What a car. Electric is a gamechanger from a pure drivers perspective. It means that fairly humdrum peoples cars go from family runabouts to luxury hatchbacks in one swoop. The drivetrain is full of power when you want it, is relaxed and easy to live with when you don't. The silence is incredible. The auto gearbox on the C3 wasn't terrible but wasnt bad either - this feels like its lightyears ahead.

The internals of the Corsa-e are largely derived from its sister Peugeot e208 but enough Vauxhall kit remains. The drivers display is Vauxhall, the stalks and heating controls are all Vauxhall. These in my view are superior and more user friendly - physical heating dials are a good thing! Built in sat nav works pretty well and can be preloaded using the car's app and bluetooth; similarly apple carplay works a treat first time every time. You get convenience features like remote preheating of the car using an app which is amazing - and really helps it feel properly premium.

Car handles pretty well too. You can definitely feel the weight of the batteries compared to lighter ICE cars but this contributes to a more stable, planted feel. Does rumble over bumps a little bit but never uncomfortably so. The counterbalance is the car handles pretty nicely for a small hatchback, road holding is decent and its quite fun on a country road. The motor is powerful and capable of 0-60 in circa 70 seconds so there is the potential to overwhelm the tyres if you really push it in the wet.

Space is decent. Interior space is actually pretty good; the boot is only average but perfectly enough for my needs. You might find the rear seats are a little small for 4x6 footers but its adequate.

So; Range. The main issue with electric cars. In December 21 the entire PSA group platform underpinning most of Stellantis' EVs was updated with new heat kit and I believe a slightly tweaked reduction gear. It means efficiency in winter and on longer journeys is improve to the mild detriment of speed. I frankly find the range pretty impressive. in the 10-15 degree conditions currently experienced at a 50/50 mix between 30/40mph and 60mph driving I can get over 200 miles in this version. Motorway speeds kill range in any EV so dial that down to 170 or so in good conditions; and in winter id expect a minimum of 140 at true 70mph with heating on. I havent used the eco mode for these ranges these are all on normal. Whether that fits in with your lifestyle is up to you; EVs are more sensitive to high speed and weather conditions than petrol cars and thats just something EV drivers learn to live with.

In case the economy figures meaning anything to you, on my normal to work and back I'm averageing between 4.8 and 5.0 miles/kwh at the moment. Longer drives are nearer 3.8-4.0.

It's capable of 100kw charging at rapid chargers using CCS ports. This is in theory enough to empty to full in 30 minutes - but your charging speed slows significantly 80-100%. It's quicker to just leave and charge again if you need. Charging can be slower but I've yet to spend more than 40 minutes at a rapid charger. Charging at home is more like 4/5 hours with a standard 7kw wall charger.

Where it swings in your favour is running costs. My PCP is £40 more than the old citroen for a top spec compared to mid spec model. Take off the no road tax, that becomes £25. I used to spend £50 a month in petrol which for similar mileage would be £20 at current home energy prices but is in fact nothing since I charge at work. Servicing is cheaper and less frequent, no congestion charges if you're in London or ULEZ charges for other areas. You do sometimes have to wait for charges on long drives but highway code recommends 20 minute stop every 2 hours - extending that up to 30 for a bit more juice doesnt seem a hardship to me.

This car is one of the cheapest decent range EVs money can buy - and it's easily the nicest small car I've ever driven. If you are prepared to make the lifestyle work for you or compromise a tiny bit you'll be rewarded with a smooth, comfortable, rapid and tech laden small car that feels worth every penny.
reviewed by Anonymous on 5 May 2022
reviewed by Lynda Greaves on 26 April 2022
reviewed by Diane Booth on 2 April 2022
reviewed by DBC84 on 29 March 2022
reviewed by Anonymous on 29 March 2022
Write your review
About this car
| | |
| --- | --- |
| Price | £29,940–£33,545 |
| Road Tax | Exempt |
| MPG | - |
| Real MPG | - |
Just reviewed...