Nissan Note (2013 - 2016)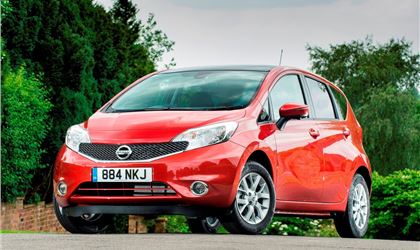 1.5 dCi Tekna 5dr
reviewed by Anonymous on 3 November 2021
5
Tax/Insurance/Warranty costs
4
Cost of maintenance and repairs
5
Experience at the dealership
4
How you rate the manufacturer
Understated
I'm coming to this car from a 4motion Golf, so a very different style for me. Purchased as kids are now learning to drive, wanted something sensible and fuel efficient.
Very first impression - it ain't a Golf (or any VW group car).
Build quality isn't as good and it doesn't offer a 'driver's car' experience. I've already realised that everyday items, like tyres and bulbs are surprisingly expensive.

The car is non-descript, dare I say incredibly boring. This actually offers some advantages.
I haven't encountered a single angry driver, no tailgating drivers, no aggressive overtaking, you're completely ignored in a forgettable car.
The design is really clever. Huge interior space, practical boot, easy access getting in/out, good all round visibility in a surprisingly small package. Climate control, auto lights/wipers, electric windows all round are as expected. Navigation and viewing cameras are really useful, bluetooth and phone work very well.
Safety features - blind spot warning, lane departure warning etc are reassuring.
Some of the controls doesn't seem as intuitive or well placed as in a VW but these are minor gripes.

Out on the road - not sure what to say? It's quiet and comfortable, a very relaxing drive. Steering isn't very precise, the car does have a tendency to drift a little, you certainly don't want to take corners at high speed. Drum brakes on rear, so braking isn't a strong point either.
The diesel engine has plenty of torque and can comfortably keep up with traffic and tackle hills.
Gear change is acceptable (not great) and drive ratios are certainly set up for economy.
ECO mode is plain horrible, feels like someone is pulling you backwards. This doesn't seem to be an issue as I'm regularly achieving 65mpg over combined cycle(despite the on board computer saying it's 55mpg. I've done the math a few times to be sure).

In summary, the car meets my needs and expectations.
It doesn't attract attention, it's practical, and very cheap to run. It's comfortable and encourages you to drive in a responsible manner - which I guess is a good thing!
It's also excellent value for money compared to say a Polo or Fiesta.
I would absolutely recommend if you can live with the above.

If you want a GTI or Mini Cooper like handling and performance, you probably want to look elsewhere...
reviewed by Anonymous on 1 March 2021
reviewed by Anonymous on 6 February 2021
reviewed by davethesteam on 19 August 2019
reviewed by Anonymous on 27 May 2019
reviewed by Anonymous on 27 May 2019
reviewed by Anonymous on 4 April 2019
reviewed by Anonymous on 10 July 2018
reviewed by Anonymous on 20 November 2017
reviewed by richardf on 6 August 2016
Write your review
About this car
| | |
| --- | --- |
| Price | £9,995–£18,595 |
| Road Tax | A–C |
| MPG | 55.4–80.7 mpg |
| Real MPG | 72.4% |
Just reviewed...