Mitsubishi Shogun (2007 - 2019)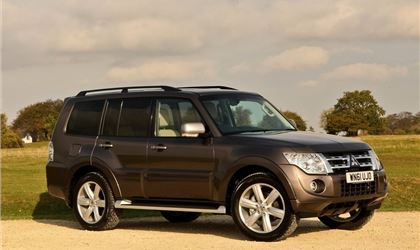 3.2 SG3 LWB
reviewed by macscrooge on 13 August 2021
4
Tax/Insurance/Warranty costs
3
Cost of maintenance and repairs
3
Experience at the dealership
4
How you rate the manufacturer
Ready for the Zombie Apocalypse!
Bought to replace my wife's 2008 Honda CR-V (our third), this car does a fairly low mileage so the less than stellar fuel consumption isn't really an issue. We both adore this car and the dog is Ok with it too.
The Shogun is a big, friendly thing and rather puts me in mind of my old Volvo 940 wagons, only much taller. It looks fabulous, is surprisingly sprightly, comfy, well tooled-up and of course, vast! The vocal engine and rustic suspension leave you in no doubt that you are operating machinery - but this makes for a refreshing change from the 'appliance' like nature of many modern cars.
Thus far we've not used the 4WD as it handles tidily enough even on greasy roads in 2WD mode. Best to slow down a bit for the corners though!
You'll easily spot our Shogun - it's the one without a tow bar....
UPDATE August 2021. Still going strong but an expensive aircon issue needing a couple of dealer visits has lost one star.
reviewed by Anonymous on 25 September 2020
reviewed by Anonymous on 21 April 2019
reviewed by adrian pike on 29 January 2018
reviewed by Jeremy 123 on 13 December 2014
reviewed by Jeremy 123 on 24 April 2014
reviewed by Bootsie on 5 March 2012
reviewed by roger37 on 7 February 2012
Write your review
About this car
| | |
| --- | --- |
| Price | £21,544–£44,075 |
| Road Tax | K–L |
| MPG | 21.4–36.2 mpg |
| Real MPG | 82.9% |
Just reviewed...