Mercedes-Benz GLA (2020 on)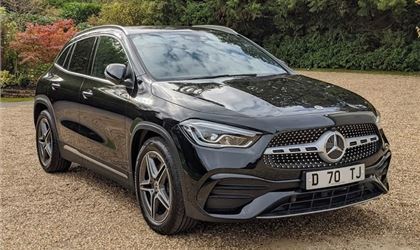 GLA 200 AMG Line Premium
reviewed by Anonymous on 29 November 2020
5
Tax/Insurance/Warranty costs
4
Cost of maintenance and repairs
5
Experience at the dealership
5
How you rate the manufacturer
Stylish and practical
I bought this car on impulse, but with no regrets...

Up until October 2019 I was a VW owner for the previous 10 years with a new Mk1 Tiguan, then a new Mk7 Golf, both very good cars. In 2018 I bough a VW T-Roc and had problem after problem after problem, so much so that in Oct/Nov 2019 the dealership bought the car back for pretty much the same price as I'd paid for it.

I then bought a pre registered, (1 month old, 50 miles), Mercedes A class A200 AMG Line Premium. Compared to the T-Roc (even though mine was a top of the range R line), the interior of the Mercedes was in a class above and far better, the new MBUX system being one of the best out there. I had no reason to change this car, other than the fact that I saw the new GLA and the "I want one" factor kicked in. So I traded in my A class for the new GLA 200 AMG Line Premium, same spec, same colour.

Being in our 60's, the higher driving position of the GLA suits us, there is plenty of room inside and in the boot. The ride is smooth and comfortable and the 1.3lt engine has plenty enough power for our needs.

The cabin is a pleasure to be in and the 2 x 10inch display screens are great. With the AMG line premium, we have all the things we need in the car, ( premium plus would give panoramic sunroof, elec adjustable front seats, multibeam LED lights)

I did look at the Audi Q3 as a comparison, but one again felt the interior of the GLA was much better, plus I had 3 years free servicing in the deal. So from my point of view, a great car, the only negative is the cost. Premium car, premium price..
reviewed by Anonymous on 21 August 2020
Write your review
About this car
| | |
| --- | --- |
| Price | £41,320–£44,320 |
| Road Tax | A–K |
| MPG | - |
| Real MPG | - |
Just reviewed...