Kia Niro (2016 on)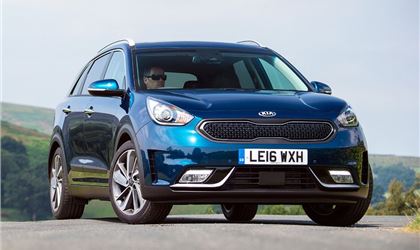 1.6 GDI Hybrid PHEV
reviewed by Anonymous on 14 December 2019
5
Tax/Insurance/Warranty costs
4
Cost of maintenance and repairs
4
Experience at the dealership
3
How you rate the manufacturer
Quiet, comfortable, easy to drive - great car at times!
A good car in electric mode but suffers from slow gearbox response in hybrid mode. Does not like the hills in the region where I live and struggles to get up them in hybrid eco mode, put the car into sport mode however and the petrol engine really wakes up but at a serious cost to the fuel economy.
In pure electric mode and with careful driving a range of around 28 miles can be achieved even in winter. When you get used to the quiet easy driving style of the Niro it can be quite annoying in the colder months when the noisy petrol engine kicks in at fairly high revs as soon as you start the car (even when in electric mode), this is because the lights, heater etc., place a high demand on the small 12v battery that runs the electrical system and this requires the petrol engine to charge it!
Great economy can be achieved running the car in electric mode - less than 1.5 litres per 100km's (60m), in hybrid mode you can achieve between 4.1 and 4.7 litres per 100 km's (60m). No where near the quoted figures. With my last Kia Rio diesel I could achieve 4.2 litres per 100 km's - over a total mixed use of 100,000 km's. At the moment my NIro is showing an average of 3.5 litres per 100 km's over a total range so far of 5,000 km's of mixed driving
reviewed by Anonymous on 18 January 2019
reviewed by prion on 13 December 2018
reviewed by Anonymous on 27 October 2018
reviewed by Robert Cross on 29 September 2018
reviewed by Anonymous on 26 August 2018
reviewed by Drover on 9 July 2018
reviewed by Anonymous on 9 July 2018
reviewed by Anonymous on 21 June 2018
reviewed by colinh on 7 May 2018
reviewed by David Ingram on 16 November 2017
reviewed by Bianconeri on 30 July 2017
Write your review
About this car
| | |
| --- | --- |
| Price | £21,635–£27,385 |
| Road Tax | A–Alternative fuel, B |
| MPG | 64.2–217.3 mpg |
| Real MPG | 71.1% |
Just reviewed...