Honda Insight (2009 - 2014)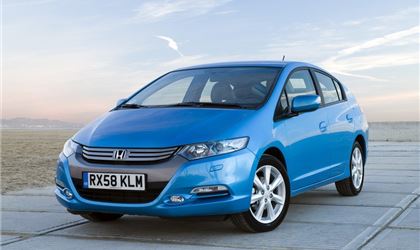 1.3 IMA ES Hybrid 5dr Auto
reviewed by Anonymous on 2 August 2021
5
Tax/Insurance/Warranty costs
5
Cost of maintenance and repairs
3
Experience at the dealership
4
How you rate the manufacturer
An unusual, economical, family car
This car was bought for my wife who needs an auto due to injury, budget was £4000 as a cash buyer. Most petrol cars we looked at crazy high road tax due to torque converter auto's being considered polluters and our mechanic advised us to stay away from electronic auto's which although cheaper on tax than the T/C auto's have issues with reliability and high repair bills. First hybrid owned, seem a little alien and space age at first though dead easy to drive.

Very surprised how well it handles, you can really chuck it around bends, acceleration actually sprightly enough if you pop it is 'S' mode and even more so if you use the flappy paddles, surprised a few drivers but it depends what you are used to of course, feels similar to the 2.0 petrol Zetec Mondeo I would say. MPG is all over the place, in winter, just doing very short runs to supermarket in lockdown, it managed a sad 42mpg, the best managed was a 200 mile steady motorway run at 65mpg. I did the same run with four of us and a boot full of luggage a few weeks later and it only managed 57mpg so appears to be very affected by weight. Average on the dash seems to be around 52mpg year round compared to 26mpg of the Mondeo that still isn't bad. We have found leaving the ECO button switched off gives better mpg, it reduces the RPM at any given speed when activated but we found you had to bury the throttle all the time leading to poorer mpg, might be because we live in a very hilly area.

Boot has a decent footprint but is shallow, probably comparable to a Focus overall, nowhere near Mondeo standards, same with the ride, pretty firm and sporty unlike the Ford which soaks up everything, although it looks low it has no problem with any type of speed bumps even when full of people. Could really do with a bit more legroom in the back, my son is 6 foot and has decent room behind the front passenger seat but would be too tight behind the driver with it set in my position. Driver's should be able to get comfy, steering wheel height and reach adjustable and seat adjusts for height too, rear view mirror obscured by tailgate design but you get used to it. It is built more like an Airfix model kit than the usual Honda quality, it isn't bad quality but all the materials have been designed with weight in mind so feels a little lightweight and rattly, the price we have to pay for better fuel consumption I guess. Only owned a couple of years but as yet, nothing as gone wrong so proving to be a tidy buy, looking at online prices, it has barely lost any money since we've owned it so that's economical motoring.
reviewed by Anonymous on 16 December 2020
reviewed by Anonymous on 12 March 2020
reviewed by Alan Bellinger on 16 September 2017
reviewed by Anonymous on 23 August 2017
reviewed by robert astle on 3 August 2017
reviewed by Anonymous on 22 June 2017
reviewed by Jubilee on 17 July 2014
reviewed by JKW on 13 September 2013
reviewed by henry11 on 4 December 2011
Write your review
About this car
| | |
| --- | --- |
| Price | £16,995–£23,595 |
| Road Tax | A–B |
| MPG | 61.4–68.9 mpg |
| Real MPG | 77.9% |
Just reviewed...