Fiat Panda (2012 on)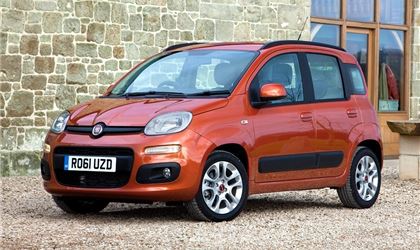 0.9 85 Twinair Lounge 5dr
reviewed by Alasdair Parsonson on 6 November 2020
5
Tax/Insurance/Warranty costs
5
Cost of maintenance and repairs
4
Experience at the dealership
4
How you rate the manufacturer
So much brio for so little money!
Our Panda was bought to replace a 2015 Fiat 500S 1.4. We've got another 500 1.2 Pop and a 2002 Alfa Spider 3.0 V6 in the household and needed at least one practical car. I originally looked at a used Alfa Guilietta which was sold before I could get to the dealer. They had a white 2017 Panda TwinAir Lounge demonstrator with about 24 000km (15 000 miles) on the clock which seemed like the perfect little run around for us (2 people plus lots of pets)

So far the car has been a joy. I was initially sceptical about the TwinAir engine however it makes the car a lot of fun to drive even if it doesn't encourage particularly economical driving. It hasn't been nearly as economical as expected and I've struggled to get it below 6.5l/100km (about 43.5mpg) The fuel economy doesn't especially bother me though as my company pays for my petrol and I live close to work so generally I don't drive with fuel economy in mind. I usually drive the car in quite a sporty manner and on the motorway it drives exceptionally well for a small city car. It's not exactly quiet at highway speeds however the refinement is acceptable. It'll accelerate nicely to over 160kph (100mph) without any fuss too and has fantastic high speed, in-gear acceleration for a small, cheap car. In all respects the Twinair engine makes this car better to drive than both the 1.4 100HP and 1.2 500's which feel sluggish in comparison.

The TwinAir engine also makes a lovely thrummy sound but can be a bit too 'vibey' for my liking at low revs in 4th and 5th gear. I normally ignore the shift indicator telling me to shift to 5th because I find the engine vibrations at speeds below 60mph in 5th a bit unpleasant. This probably also doesn't help the fuel economy. The engine smooths out in ECO mode which helps a bit. Otherwise the ride is extremely good and I find the seats very comfortable.

The handling is okay but nothing to write home about however the complaint ride makes up for this. The fit and finish are good for a budget car with no rattles or squeaks. The front seat passengers have decent room (we're both no more than average height) but the rear leg room can be a bit limited if a taller person sits up front.

This is a South African spec Lounge model which comes slightly bizarrely specced. For instance it has standard climate control (which works very well) ,rear parking sensors and a heated windscreen (completely superfluous in our climate) but no electric mirrors, boot light or rear speakers. I've added the OEM boot light (about a 30 minute job) because it irritates me not to have one and the OEM rear speakers which has increased the listening experience marginally.

The UConnect stereo/infotainment system works well and the sound quality is surprisingly good (a lot better than either 500 model)

So far the car has been completely reliable with no problems although I see that Fiat SA has reduced the service intervals from every 30 000km (18750 miles) to every 15000km (9375 miles) which in my opinion is a good thing. We've owned many Fiat's and Alfa Romeo's and have experienced decent service from the dealers while under warranty however we normally use a trusted indie once these run out. Generally Fiat's in our experience have been cheap to run and repair (parts are very reasonable) and generally very reliable.
reviewed by Anonymous on 4 July 2020
reviewed by Anonymous on 26 June 2020
reviewed by Maya Goia on 27 February 2020
reviewed by Anonymous on 26 February 2019
reviewed by Anonymous on 26 February 2019
reviewed by Anonymous on 27 March 2018
reviewed by stanton on 9 October 2017
reviewed by ScottCurtis on 18 November 2014
reviewed by bobhaynes on 2 May 2014
Write your review
About this car
| | |
| --- | --- |
| Price | £10,710–£15,110 |
| Road Tax | A–C |
| MPG | 50.4–74.3 mpg |
| Real MPG | 83.9% |
Just reviewed...