New Range Rover Sport: Price, specs and release date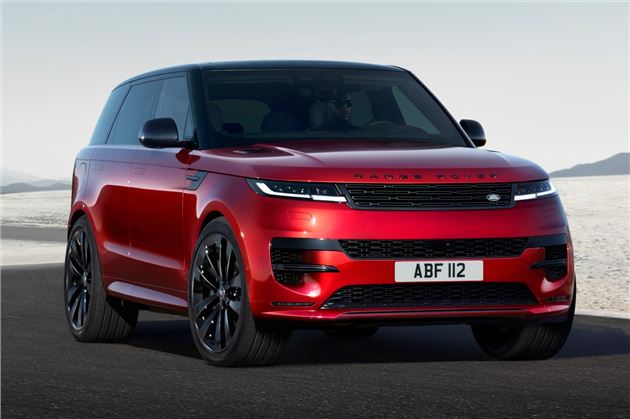 Land Rover has detailed its all-new, third-generation 2023 Range Rover Sport luxury SUV. Sitting beneath the recently launched new full-size Range Rover and above the Velar, the new Range Rover Sport is available to order now with delivaries starting in late-2022. 
Now with a five-seat cabin and without the option of seven seats, the new Range Rover Sport combines a luxurious cabin crammed full of the latest technology with a more engaging driving experience than the bigger Range Rover. With straight-six, mild-hybrid diesels and petrol, two new plug-in hybrids and a thumping great twin-turbo V8, the new Range Rover sport has lots to offer luxury SUV buyers. 
2023 Range Rover Sport: price and release date
The all-new Range Rover Sport is priced from £79,135 for the entry-level D250 diesel version. That makes it around £15,000 cheaper than the entry-level Range Rover, although it's a significantly higher starting price than the BMW X5 and Porsche Cayenne. 
Expect the plug-in hybrids to command a premium, and higher-end engines and trim levels will push well over £100,000. Eventually there is expected to be a full-on SVR performance version, and a full EV - the latter could well approach £150,000 with some choice options. 
Land Rover is opening orders for the new Range Rover Sport right now. Deliveries are yet to be confirmed, but expect the first examples to arrive in showrooms towards the end of 2022.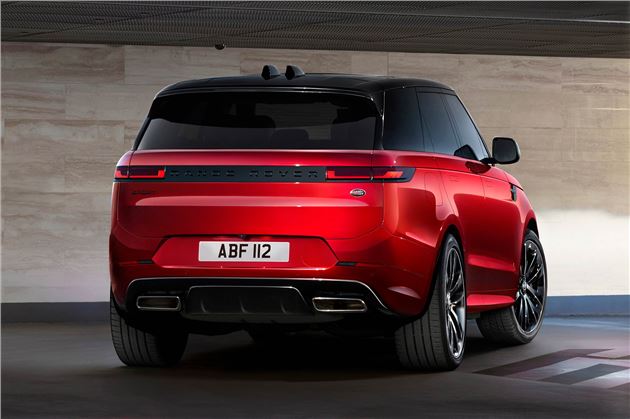 2023 Range Rover Sport: styling and interior
The outside of the new Range Rover Sport is somewhat familiar in its overall proportions and stance, and is immediately recognisable. There's been a number of detail changes, however. 
Slimmer digital LED headlights combine with a narrower black grille, and the deep front bumper gives the front-end a muscular look. Side-on, we can see the new car's flush-fitting deployable door handles and black glasshouse.
At the back, the new Range Rover Sport has the longest and largest rear spoiler ever fitted to a Range Rover. There's also new, slim LED tail-lights linked by a black bar for the badging, while the number plate now sits in the bumper instead of in the centre of the tailgate. 
These changes, along with a slippery underbody, all help to make the new Range Rover Sport 15% more aerodynamically efficient than the outgoing version, improving fuel efficiency. 
Inside the Range Rover Sport closely mimics the full-size Range Rover, but with a more driver-focused, wraparound cockpit. The dash is dominated by a 13.1-inch central touchscreen using Land Rover's latest and more advanced (yet apparently faster and easier to use) Pivi Pro infotainment, while a separate climate control stack still features. 
There's also a 13.7-inch digital instrument display, while the Sport uses Amazon Alexa voice control along with built-in e-SIMs, Apple CarPlay and Android Auto smartphone connectivity and wireless phone charging. The whole car's electronics are upgradable via over-the-air updates, too. 
Further new tech includes an advanced cabin air purification system that is claimed to be able to filter out Covid-19 particles, active noise cancellation, plus a Meridian Signature Sound System with up to 29 speakers, including speakers in four of the headrests.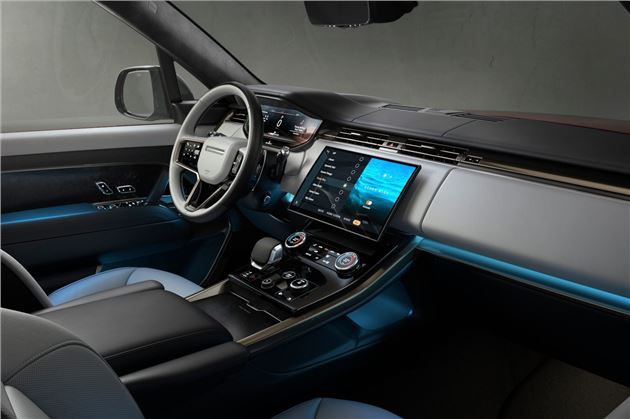 2023 Range Rover Sport: engines, performance and specs 
The new Range Rover Sport features a choice of six-cylinder petrol and diesel engines - all of which featuring 48v mild-hybrid technology - along with a pair of plug-in hybrids and a powerful range-topping V8 model. 
Three straight-six diesels are offered: A 249PS D250, a 300PS D300 and a 350PS D350. All put power through an eight-speed ZF automatic gearbox, with the most powerful D350 capable of 0-62mph in 5.9 seconds and up to 38.2mpg according to the official figures. 
Two straight-six petrols are available with either 360PS or 400PS. The latter manages 0-62mph in 5.7 seconds and up to 30.1mpg combined. But that's not the fastest Range Rover Sport: The P530 uses a BMW-sourced 4.4-litre twin-turbo V8 with 530PS and 750Nm of torque, enough for a 0-62mph time of 4.5 seconds.  
For many it'll be the new plug-in hybrids that matter most. The most affordable is the P440e, which uses a 3.0-litre straight six petrol combined with an electric motor. But Land Rover's headline variant is the P510e. 
That also uses a straight-six petrol engine but mates it to a 105kW electric motor and substantial 38.2kWh battery pack. Putting out 510PS in total, it can do 0-62mph in 5.4 seconds. But more important is its electric range of up to 70 miles and CO2 emissions of just 18g/km. 
Land Rover has confirmed an all-electric version of the Range Rover Sport will arrive in 2024. Details of it are thin on the ground, but expect to see similar performance to the plug-in hybrids along with an electric range of at least 300 miles. 
1
Is it worth getting a Range Rover Sport?
The Range Rover Sport is a luxurious and desirable big SUV that'll definitely impress the neighbours. More than that, though, it's spacious, good to drive and filled with upmarket features. It'll be expensive to run, though, and might not be all that reliable. 
2
Is the Range Rover Sport good for a long drive?
If travelling in comfort and style matters most then the Range Rover Sport is great, with hugely comfortable seats, a plush ride and powerful yet smooth engines. It won't be as fuel efficient as a smaller SUV, however. 
3
How much is a Range Rover Sport now?
That depends on the age and mileage. The cheapest first-generation Range Rover Sport with high mileage can be found for around £5,000, while you'll need at least £25,000 to get yourself in the most recent model.
Before you step into a showroom, read our in-depth guide to all the new cars coming in the next 12 months and beyond – some are well worth the wait.
Read more
Ask HJ
Is brake disc failure a manufacturing fault?
My car is less than three years old and only has 16,000 miles on the clock and I have had to have four brake discs changed by my garage due to corrosion and pitting at a cost of over £800. I have been in touch with the customer services department and after their investigations they have informed me that they can neither offer compensation or have any information for me in relation to the failure of the brakes. I bought this car with only 1,000 miles on the clock and in my opinion, for safety reasons at least, I deserve a reason for the disc failure and do not like the fact that i am being left with no answer to this.
Sadly I don't think you have any grounds to make a reasonable claim. Brake discs are exposed metal and this means they are susceptible to corrosion if the vehicle is stored outside in the elements. In most cases, the rust will be cleaned off when you drive the vehicle and apply the brakes. However, if the car is parked up for weeks at a time, this corrosion will eat into the metal and wreck the discs and pads. This is true for all cars and isn't a manufacturing defect in my view. Given that your car is approaching the end of its warranty period, it may be cheaper to have it repaired by an independent specialist rather than the dealer. The quality of the work will be just as good as the dealer but the cost of the work will be 20 to 30 per cent cheaper.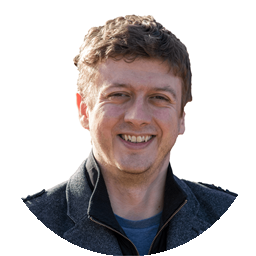 More Questions
Ask HJ
Can you recommend an electric SUV?
I am contemplating changing my large automatic SUV vehicle to an electric or plug-in hybrid. I don't quite understand the cost of charging compared to the range the vehicles can potentially achieve. Which cars achieve the most mileage for the price to charge the car? I cover approximately 5,000-6,000 miles a year, generally in the countryside, up to a distance of 20 miles radius, with an occasional short drive locally. I intend to charge at home as I am retired and prefer an SUV type vehicle due to ride height and ease of getting in and out of it. My budget would be in the range of £25,000-£40,000 as I don't wish to be penalised for extra car tax. I would also like to hear your opinion on the cost of electricity that keeps increasing dramatically and if it is a false economy of purchasing an electric vehicle.
To find out how efficient an electric car is, you need to look at the miles/kWh figure. This is kind of the electric equivalent to MPG. A Skoda Enyaq, for example, officially returns around 3.7 miles per kWh. That means, with its 77kWh net battery capacity, you'll be looking at a range of around 285 miles. The cost of electricity will depend on your home electricity tariff. If you're paying, for example, 28p per kWh, you'll pay around £21.50 to fully charge the Enyaq at home – equating to around 8p per mile. That's still significantly less than a petrol or diesel car. If you have to use public rapid chargers regularly, you'll be paying significantly more for electricity and it might not make as much financial sense. You will save in other areas, though – such as VED (road tax) and servicing costs. We'd recommend an MG ZS EV for your requirements – it's an excellent introduction to electric cars. Bear in mind, though, that EVs with a list price of more than £40,000 aren't hit by the premium car tax.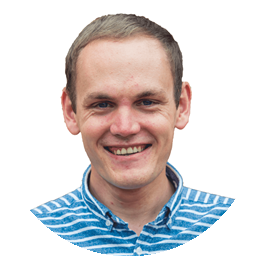 More Questions