First drive: Nissan Leaf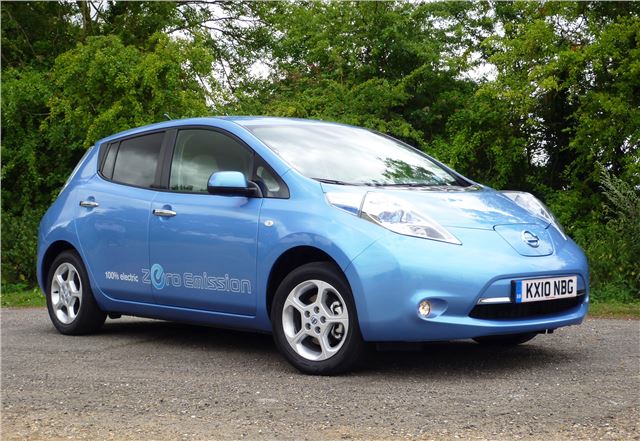 It's not often a car comes along that's genuinely exciting - something groundbreaking and innovative. But that's exactly what the Nissan Leaf is. It's designed as the first affordable, purpose-designed zero emission electric vehicle from a major manufacturer. This really is a very important car and one that could shape the future of motoring.
What you first notice is how normal the Leaf looks. There's no hint that this is an electric car - it could very well just be a standard hatchback. And that's the point. Nissan wants people to consider this a 'real car', not a weird and wonderful electric vehicle. It also explains why it's a family-friendly five-door hatchback, with all the room, comfort and practicality you'd expect.
This means you don't have to compromise just because you choose an electric vehicle (or EV). There's impressive passenger space, in fact it's one of the best of any family-sized hatchback and those in the back get lots of legroom and head room. The boot is useful too and offers similar space as a Volkswagen Golf. You don't need to worry about the batteries taking up boot space as they do on many hybrid cars as they're located under the seats.
And once behind the wheel it continues with a familiar feeling. It's similar to a conventional car, so even if you've only ever driven a standard petrol or diesel before, you won't feel daunted. Obviously there are some key differences - the gear lever looks more like a computer mouse and you simply slide it left and down for 'drive' or up for reverse.
The digital dash is similar to that used on cars like the Honda Civic and thankfully Nissan has kept things very simple. It shows you the battery charge, battery temperature and the all-important range. There's also an eco-bar at the top which tells you how much power you're using, so overall it looks pretty much like a conventional modern hatch.
Moving away in silence is an eerie feeling which takes some getting used to. All you can hear in the cabin is a gentle whir from the electric motor and the sound of the tyres on the tarmac. This will be familiar to drivers of hybrids such as the Toyota Prius, but what won't be is the lack of petrol engine assistance. Instead the Leaf silently and effortlessly builds speed.
It's immensely impressive to drive and better than many similar-sized petrol cars. Power comes from an 80kW (109bhp) electric motor with 280Nm of torque - that's as much pulling power as a Volkswagen Golf GTI and it's great away from a standstill as all the torque is available immediately. So in town driving the Leaf is really in its element for nipping in and out of traffic.
The electric motor is 'fuelled' by a lithium-ion battery and regenerative energy from braking and coasting is fed directly to the battery to ensure a minimum waste of energy.
There's no official 0-62mph time but it's estimated at around 10 seconds and the Leaf has a top speed of 90mph. It certainly feels urgent on the move plus it handles surprisingly well too. The Leaf was designed from the outset as an electric vehicle rather than a conversion from a standard combustion engine vehicle, so the steering and suspension are unique - the Leaf doesn't share a platform or components with other Nissans.
In corners it's incredibly flat with barely any body movement, helped by those batteries being located under the seats which gives a low centre of gravity. The steering is light but responsive and the ride is superbly smooth, making this a comfortable and relaxing car to drive, as well as being very enjoyable.
Of course, the big concern for most driver's will be the range of the Leaf. This all depends on your individual driving style and what conditions you'll encounter but Nissan says it's roughly between 80 to 100 miles. If you sit down and think about your daily driving habits, many people will probably find that they don't even cover these distances.
Nissan admits the Leaf isn't for everyone, but its research shows that the average daily journey for 80 per cent of people is just 30 miles - perfect conditions for an EV. Of course it's no good for long distance drivers, but if you think of the Leaf like a mobile phone it makes sense. You charge it at night and use it during the day - and if you're going to be using it a lot you make provision to charge it when you're away from home.
You can charge it from a normal mains plug in your house or garage. A full charge takes around eight hours but using a quick charger post, the battery can be charged to up to 80 per cent of its capacity in under 30 minutes. These quick chargers are likely to be at shopping centres, supermarkets and Nissan dealers - some are already in place in fact. If you do run out of power, Nissan is working with the major breakdown services such as the AA and RAC to provide dedicated patrols to deal with EVs.
The Leaf will go on sale here in March 2011 and will be the first of a range of five electric vehicles from Nissan which will include a small city car, a sports model and a small van. Of course new techology is never cheap and the Leaf is no exception. It will cost £23,990 when it goes on sale and that includes the £5000 discount from the Government incentive. True, that's far from cheap. But the Leaf is a groundbreaking car that doesn't need fuel and has zero VED, so running costs are minimal.
Charging costs depend on your electricity tariff, but on a lower-cost overnight rate it could be around £1.50 for a full charge. However, most people are likely to use part of their battery charge each day, so it could be pennies each night rather than pounds.
One of the neatest Leaf features is mobile phone connectivity. If you have a Smartphone, you can use it to communicate with the Leaf when you're out and about. With a few clicks, you can request to pre-condition the air temperature while the car is plugged in. You can also remotely check the battery level or ask the vehicle to send you a message when charging has completed.
Comments