Geneva Motor Show 2015: Hydrogen Honda FCV Concept revealed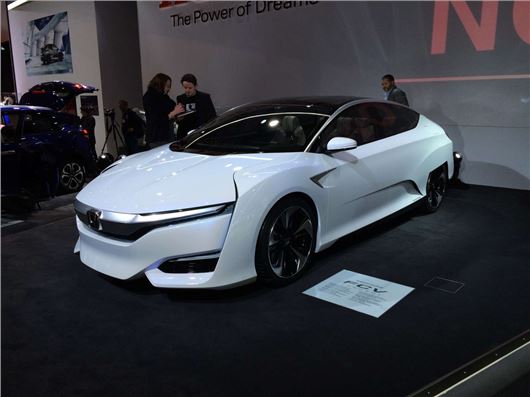 Published 03 March 2015
Honda has given its latest fuel cell vehicle, the FCV concept, its European debut at the Geneva Motor Show today. It's the latest in a line of fuel cell vehicles from the Japanese company, who resolutely refuses to adhere to the electric status quo when it comes to our alternatively powered future.
Originally shown at the Detroit Motor Show in January, the FCV concept is very close to being a production car, with Honda confirming that it's "due to launch in 2016". That means you're basically looking at the replacement for the 2008 FCX Clarity here.
That car had a 134PS electric motor, driven by a hydrogen fuel cell fed by a tank capable of a 240-mile range, or thereabouts, while Honda says this one will go 435 miles and has an output of "more than 100kW". That means above 136PS, although the fuel stack itself is 33 per cent smaller, with Honda claiming an overall 60 per cent improvement in the drivetrain efficiency.
It can also power your house. The 'Honda Power Exporter Concept' means the car can provide AC power "in times of disaster or other events" – a feature Honda hopes will enhance the appeal of hydrogen power in general as a practical alternative to petrol and diesel.
Honda is sticking with Hydrogen because, all things being equal, a hydrogen car can be fuelled in a few minutes as per any conventional motor, while emitting nothing but water. 
Alas all things are not equal, and despite some small-scale experiments by supermarket chain Sainsbury's, the hydrogen fuel infrastructure in the UK remains tiny – although the formation of the UK H2 mobility project, a partnership of Government and private business designed to further the cause of hydrogen fuel, may see that change. 

Comments
Author

Mark Nichol
Latest