Mercedes-Benz E-Class Estate (2016) Review
Mercedes-Benz E-Class Estate (2016) At A Glance
The Mercedes-Benz E-Class Estate is often regarded as the benchmark large premium estate, intended to compete with rivals such as the BMW 5 Series Touring, Audi A6 Avant and the Volvo V90. As with the E-Class saloon, the Estate offers the latest in Mercedes-Benz technology and quality, with the additional space that estate buyers are looking for.
It also comes with a large range of engine options including diesel hybrids, and four-wheel-drive on the most powerful diesel option. Comfortable, refined and well equipped, the E-Class Estate is a desirable option - if you can afford it.
If you've already read our review on the excellent new Mercedes E-Class saloon, then you could be forgiven for thinking the estate variant is more of the same only with a bit more space. And you'd be right – although there's much more to this premium German estate than its capacity to devour your Louis Vuitton luggage.
But we'll get to that later. First of all, we do need to talk about the load space – all 1820 litres of it (or 640 litres with the seats up). That's impressive. It will take a pallet. Or your golf bag(s). And it's better than its main rivals, the BMW 5 Series Touring and Audi A6 Avant. In fact, we reckon only the Skoda Superb Estate is able to offer more space.
The E-Class Estate also looks fantastic. Gone are the days when creating an estate variant just meant randomly tacking on some more metal from the rear pillars backwards.
For the E-Class wagon, the designers kept the saloon's front end with its long snout, but from the centre pillar it's all estate. Like the Audi A6, it uses steeply raked windows and a short rear overhang to create an impression of sportiness.
So is the Mercedes-Benz load lugger all show and no go? Not at all. Even though the UK only gets diesel power, both (there are only two) engines are excellent. The 220 d is powered by a brand new 2.0-litre four-cylinder unit that's good for 194PS while returning an official 67mpg. The 350d uses a 3.0-litre V6 that produces 258PS and returns a claimed 52mpg.
If you want a petrol, then you'll have to opt for the AMG version. The E43 AMG engine has already appeared in the C-Class and here is coupled to a full-time four-wheel drive system to help cope with the 401PS from the twin-turbocharged 3.0-litre V6. An E63 AMG will follow and although no figures are available, you can expect it to put out some serious grunt.
Prices for the AMG start at well over £50,000 while it will cost close to £37,000 for an entry-level version of the E-Class estate. That's more than its premium rivals, but standard kit includes navigation, LED headlights, automatic tailgate, keyless entry, DAB radio, heated seats and 17-inch alloys.
There are only two trim levels available, so take a step up to AMG Line and you'll pay around £40,000 for 19-inch wheels, three-spoke steering wheel and some leathery bits and bobs. 
What do owners think of the Mercedes-Benz E-Class Estate (2016)? Check out our
Owners' Reviews
from people who live with the car day in, day out.
Reviews for Mercedes-Benz E-Class Estate (2016)'s top 3 rivals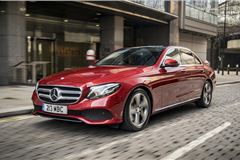 Mercedes-Benz E-Class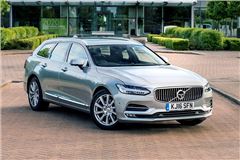 Volvo V90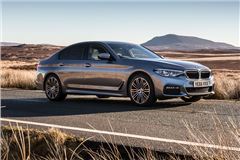 BMW 5 Series
Ask Honest John
My new car was sat at the docks for months. Is this normal or due to Covid?
"I've just taken delivery (remotely) of a brand new Mercedes-Benz E-Class Estate. This car was advertised as brand new and I'm the first registered keeper. Although I bought it from an MB dealer through CarWow, it was actually delivered straight from the docks in Grimsby. I have subsequently found a stamp on documentation within the car indicating some sort of inspection at Grimsby docks on 29th February 2020. Is this, as the dealer has said, normal for a car to be sat at the docks for this period of time and as a result of the pandemic? Is there anything that I should be wary of or that has likely to have deteriorated in this time?"
It's fairly typical for there to be a discrepancy of a couple of months between a car's build date and its registration/delivery. That's obviously been amplified during the Covid situations with cars sitting in compounds for extended periods. It shouldn't really make any difference to you – the car's value will depend on its registration date (rather than build date), and you should follow the car's servicing schedule from the registration date too. The dealer might be willing to make a gesture of goodwill if you point out your dissatisfaction, but I wouldn't expect anything more.
Which estate has the longest boot space?
"Which estate car has the longest boot space with a flat load deck?"
Mercedes-Benz E-Class Estate and Skoda Superb Estate.
My Mercedes-Benz E-Class Estate was an ex-hire car - will this affect the resale value be affected when I return it at the end of the PCP deal?
"I bought a Mercedes Benz E-class Estate from a main dealership that I have dealt with in the past. I was unaware that the car (10 months old, 14,000 miles) was an ex-hire car until the logbook arrived. I've purchased the car on PCP with the first service having been done by the dealer just before I picked up the car. On first driving the car the AdBlue sensor went and was repaired under warranty. Will the car's value be affected when I return it at the end of the PCP deal? Also, should I be concerned that something has already gone wrong and consider returning it within the 30 day policy?"
Fortunately it's on a PCP, so the value at the end of the PCP contract is guaranteed. If you don't want to keep it and you return it in good condition you can simply walk away. If it turns out to be worth more than the guaranteed value you can use that equity to negotiate another PCP or pay off the guaranteed value and re-sell the car yourself.
Can I swap run flat tyres for ordinary tyres on my Mercedes-Benz E-Class Estate?
"I'm considering buying a Mercedes-Benz E-Class Estate 220 D AMG line which has run flat tyres on 19-inch rims as standard. Do I have to keep the run flats or can I replace them with ordinary tyres and maintain safety? Also, will I be able to put 18-inch rims on with winter tyres for the 'cold months' in Scotland?"
No, you can swap for ordinary tyres. If you fit 18-inch, or 17-inch or 16-inch rims you will need to fit them with TPMS valves.
What does a Mercedes-Benz E-Class Estate (2016) cost?
See also