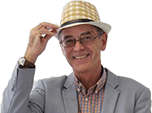 Is water ingress in the Volkswagen Passat a known problem?
I own a 2004 Volkswagen Passat Highline. Recently water has been ingressing the car and "ponding" in the passenger footwell behind the driver and occasionally in the driver footwell. My usual garage (not a main dealer but very good) have investigated the matter and cannot find where the water is coming in. They have checked both offside doors and found no evidence of water ingress. Have you met this problem before? Is it frequent problem with a Passat and can you offer some suggestions as to how my garage can solve and rectify this matter?
Asked on by JB, Wigston, Leicester

Answered by
Honest John
This problem as old as the model is and dates back to 1996. (You can't have a very good garage.) What happens is that the drains for the vent well in the bulkhead get blocked, leaving rainwater in the vent well nowhere to go except into the car. The filters at the tops of the drains either side of the bulkhead vent well need clearing, and this is a nuisance job because to get to one of them the battery has to be removed. The pollen filter will also need to be replaced because that will be sodden from all the rainwater that has been coming through it.