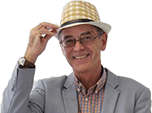 What's the most comfortable medium sized SUV?
We need to find the most comfortable riding, reasonably well equipped small/medium sized petrol automatic SUV for up to £30K and wondered what you recommend?
Asked on by loughrigg lad

Answered by
Andrew Brady
A Mazda CX-5 is a very comfortable SUV with a pleasant, upmarket interior. Your budget will get you a petrol automatic model in mid-level Sport Nav+ trim. Alternatively, the new Citroen C5 Aircross is very comfortable and rides exceedingly well.
Similar questions

What's the most comfortable riding car for rough roads and potholes?

A member of my family suffers from chronic pain and we need a very comfortable car with very soft springing. We currently have a C5 with Hydractive 3 suspension, which has been brilliant but it's reaching...

Although I am a similar age to Jeremy Clarkson, I do not share his passion for 200mph supercars with rock hard suspension and the ability to send my false teeth through the back of my neck upon accelerating....
Related models

Enjoyable to drive, head-turning looks, upmarket interior.

Very practical. Comfortable thanks to extra foam in seats and Progressive Hydraulic Cushions. Quirky. Three individually sliding and folding read seats good for child seats. Isofix outer rear seats and front passenger seat.